A benefit of being an FBA seller is you don't actually need many retail arbitrage tools and supplies. Start-up costs are low, and you can easily start out with one or two inexpensive retail arbitrage apps and shipping supplies.
However, as you grow and scale your Amazon FBA business, there are some amazing retail arbitrage software and resources that will optimize your time and profit.
I've been selling on Amazon since 2017, and have tried every retail arbitrage tool and app under the sun. These are the tools and supplies that really leveled me up to a six-figure Amazon business.
If you're ready to start implementing these tools, I've even reached out to get you some exclusive discount codes. Don't forget that the purchase of all these retail arbitrage tools is tax-deductible!
For quick demos of these tools in action and additional tips to use them effectively, check out the YouTube video version of this article. While you're there, subscribe to my channel for weekly Amazon FBA seller tips and tricks like this guide.
Disclaimer: This post contains affiliate links. If you click through and make a purchase, I may receive a commission (at no additional cost to you). Thanks for your support in this way!

15 Retail Arbitrage Tools To Take Your Amazon FBA Business to the Next Level
Retail arbitrage apps, chrome extensions & software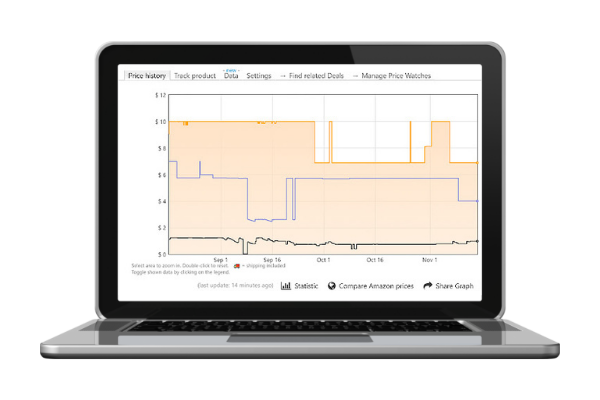 Cost: Free or 19 € / month for premium features (about $22.25 USD currently)

Keepa is definitely my number one retail arbitrage app. The free version works great if you're just starting out, but the premium subscription is well worth it if you're growing your business. The Keepa chrome extension shows you the Amazon sales rank chart and historical pricing data right on the product page. I find Keepa especially handy if a scan seems too good to be true. You can see the sales rank over time, and the number of sales and offers for each item. This data is especially helpful for pricing seasonal items. Keepa tracks pricing data for over 2 billion products and counting, so I think it's one of the top retail arbitrage tools for any seller.
Cost: Free
This simple website retail arbitrage tool decides how many of a product to buy. Just enter the product's Amazon sales rank number, your country, and the Amazon product category. In one click this Amazon Sales Estimator will ballpark your number of expected product sales per month. 
Want to know how I use it to know how many to buy? Click here to get my FREE rank guide when you sign up for my newsletter.
Cost: Free 30 day trial then $99.99 / year
RevSeller Discount Code:  NK20 to save $20 off your first year for new customers 
RevSeller is a powerful Chrome extension to quickly calculate Amazon FBA or FBM revenue for a product right on its page. This Amazon FBA revenue calculator is thorough and takes referral, shipping, and handling costs into account in a detailed costs breakdown. I use RevSeller to determine the price of every one of my products. I love how easy it is to make informed decisions as I adjust the price. RevSeller provides huge time savings as you scale your business, and even provides a link to start listing your product in one click.
Bonus tip: Include your purchase and break-even price in your SKU. That way you can easily reference this data when you adjust prices.
Cost: $99 per year or $199 for lifetime access
IP Alert discount code: Use code NIKKI for $30 off a lifetime license
IP Alert is also a chrome extension that displays helpful information right on the Amazon product page. If a brand is known to file IP complaints against sellers, the extension will display an IP alert when you visit the product page. The alert will be on a one to three-alarm scale to help you decide whether to proceed with listing the product. The tool is powered by a crowd-sourced database. IP Alert may not be one of my "must" retail arbitrage tools, but it's especially useful for new sellers who are still learning about IP complaints.
Cost: 14-day free trial, or starting at $20 per month
Dext Prepare (formerly Receipt Bank) makes tracking my purchases and preparing my taxes a breeze. All you have to do is take photos of your receipts in the app and voilà! Dext Prepare will automatically extract and save information like costs, dates, and the store. The next time you need your receipt or purchase data, you can export easy excel reports instead of manually adding receipts from a bulky folder. 
Cost: Starting at $15 per month
Sellerboard Discount: Use this link to get 2 months free – no credit card required!
I use Sellerboard to manage my inventory, and its Amazon FBA profit calculator forecasts my total sales. Think of this retail arbitrage app and desktop program as your ultra-organized command central. The inventory manager is complete with images, has automation options to solicit feedback from customers, and superior reporting. Sellerboard's monthly sales forecasts have always been spot on for my business. If you're like me and don't need your inventory tool to create shipments, this is a much more inexpensive alternative to competitors like Inventory Lab.
Cost: % of your Amazon Sells
Sign-on Bonus: Use this link and get $250 bonus when you get funded just for being referred by me.
Running out of money to buy inventory and 'feed the beast' is every seller's nightmare. It happened to me my first Q4 and I made sure never to make that mistake again! With Payability's financial toolkit for Amazon sellers, you can get next business day payouts and no longer need to wait 14 days to get paid out for your Amazon sales. 
Instant Access gets you paid the next day, every day on your Amazon sales so you can guarantee your cash flow and put your money to work right away. With real-time access to your funds (even on weekends and holidays), you'll have added flexibility, less risk, protection from unavailable balances, and more. There are no credit checks or obligations associated with applying. Since approval is based on account health and sales performance, you can get approved in just 24 hours after you connect your online selling channels. Plus get $250 bonus when you get funded just for being referred by me.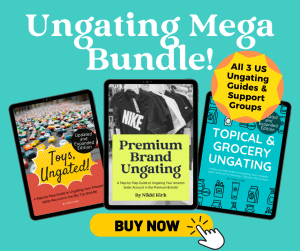 Cost: $89-199 per guide
Discount: Bundle all 3 guides to save 25% (no code needed)
Remove those dreaded restrictions from your account and get access to sell some of the most profitable products and brands on Amazon. I created ungating guides for three of the most relevant product categories: toys, topical & grocery, and premium brands. After you learn the step-by-step process in these ebooks, ask questions & get more tips from myself and other sellers in the included Facebook groups. These high profit products make up 70% of my inventory and are honestly my key to earning six figures in profit. Ungating is the fastest way to ramp up your profit, so these guides will pay for themselves in no time.
Retail Arbitrage Tools and Packaging Supplies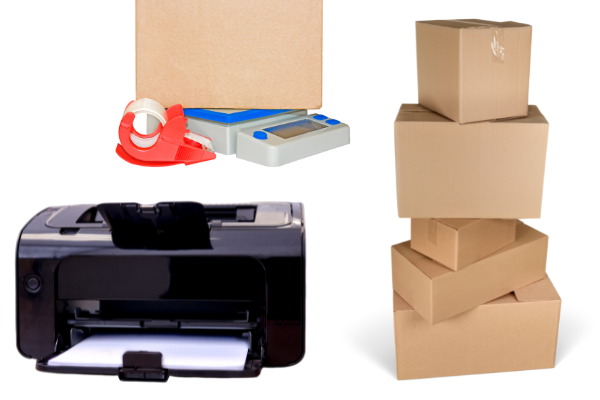 The only physical retail arbitrage tools you need are to pack and ship your product. Check out my Amazon affiliate store for links to all the products I use.
Cost: $119 for the printer
You can use any kind of laser printer to create your labels, but I love how small and lightweight the HP LaserJet Pro is. Many sellers, including myself, use a Rollo printer, but I also like that I can use this printer for more than just labels. I use the HP LaserJet Pro in conjunction with half-sheet shipping labels and 30 sheet address labels. If you're just starting out, you don't need anything fancy. A printed piece of paper taped to the box will do fine. Adhesive labels become a major time saver as you ship more volume, and they look more professional.
Cost: $6.95 for a two-pack of Goo Gone, $9.45 for Scotty Peeler
There is nothing more frustrating than removing sticky labels with your fingernails, so these supplies are a lifesaver. I use a hairdryer on the lowest setting to apply heat, and then the label comes right off with a Scotty Peeler. If there's any sticky residue, it will vanish with a little Goo Gone on a paper towel. Some folks use a heat gun, but I think any ordinary hair dryer works just as well.
Cost: $11.90 for 200 6"x9" polybags
Any time a product is not already 100% sealed in a package, you will need to polybag it. My bags of choice are from Spartan Industrial because they come in a range of sizes, are not repositionable, and won't reopen. Whichever bag you use must have a suffocation warning on it. Check out my Amazon affiliate store for more bag sizes to fit tricky products.
Cost: $6.95 for 500 roll of one-inch stickers
I started using these sticker seals on beauty items & other products so the customer absolutely knows the product is new. In the event the text isn't already printed on polybags, I also use these suffocation warning stickers. These do not separate stickers are super helpful for bundling products. While these stickers aren't a must, they elevate my professionalism and customer satisfaction.
Cost: $18.99
As your business grows, a USB barcode scanner will make entering products speedy. Skip typing in UPCs. Plus, the scanning is kind of fun.
Cost: $44.99
Accurately weighing your packages will make shipping faster and ensure you're not overpaying for postage. I used a bathroom scale when I first started, but often paid overages because my package weights were incorrect. Now it's one of my must have Amazon FBA tools. I'll never buy postage without a scale.
Cost: $26.99 per pack of Six
I've tried all kinds of packing tape. Only Gorilla tape actually stays put, which makes packing shipments much easier.
I hope these retail arbitrage tools and supplies make growing your Amazon FBA business easier! For more guides and tips, check out my YouTube channel or other blog posts.
Note: This article contains affiliate links.
Check Out the Video Version of This Amazon FBA & Retail Arbitrage Tools Post