If you're an Amazon seller, you may wonder why you don't receive payments from your sales right away, or why your money is held in "Amazon Account Level Reserve." This blog post will explain Amazon Account Level Reserve, where to find it in the Chart of Accounts, and how to read the payments dashboard. Most importantly, we explain how it impacts when you get paid and how you can receive Amazon Seller FBA payments sooner.
What is Amazon Account Level Reserve?
Your Amazon Account Level Reserve holds a percentage of your Amazon Seller FBA Sales revenue. Amazon holds back some of the sellers' funds from payout to cover chargebacks and refunds because that money is taken from the seller, not Amazon. Amazon always puts the customer first, so they do this to ensure there's always money available for customer refunds and to protect itself from potential losses.
Note that the account level reserve also used to be called Unavailable Balance.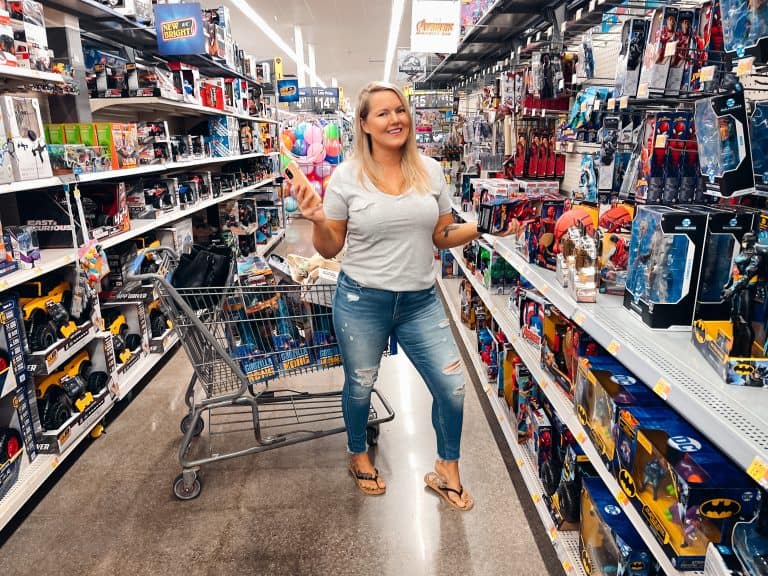 When Your Amazon Account Level Reserve is Available For Pay Out
The amount in your reserve account is dependent on the delivery dates of your sales, your sales volume, and your payment history. The money from your sales will be held in the reserve account until the reserve period, which is 7 days after order delivery, has elapsed. The money is then released and paid out to the Amazon FBA seller.
You can expect your sales revenue to be held for approximately two weeks after the sale. Here is an example:
Order is Placed on March 14
The Order Ships on March 15
The Order is Delivered on March 20
Funds From Sale Revenue is Available on March 27 (7 days after delivery)
The amount held in your Amazon account level reserve is also impacted by your account level metrics, such as seller standing, the number of orders without issues, length of time as a seller, and seller feedback.
This is why new Amazon Sellers will have more reserves held back than experienced sellers. It is not unusual for payouts to be delayed for 4-6 weeks after the first sale. Amazon needs to build the amount in your account level reserve. So it's important for new sellers to keep their expectations low for when they will receive their first payout.
Amazon Account Level Reserve For FBM Sellers
Suppose you are an Amazon Seller shipping the order yourself instead of through Amazon (Amazon FBM – Fulfilled By Merchant). In that case, the funds will be held for 7 days from the estimated delivery date based on the tracking, not the actual delivery date. Even if the item delivers early, your funds will be released 7 days after the estimated delivery date.
How to Find the Amazon Current Reserve Amount and Read the Chart of Accounts
The current reserve amount for each seller is displayed in the Chart of Accounts on the payments dashboard. As your sales volume and payment history change, so will this amount. You can also see your reserve percentage, which is the percentage of your Amazon Seller FBA sales revenue that Amazon will hold in the reserve account.
Navigate to the Chart of Accounts by going to:
Reports > Payments > Chart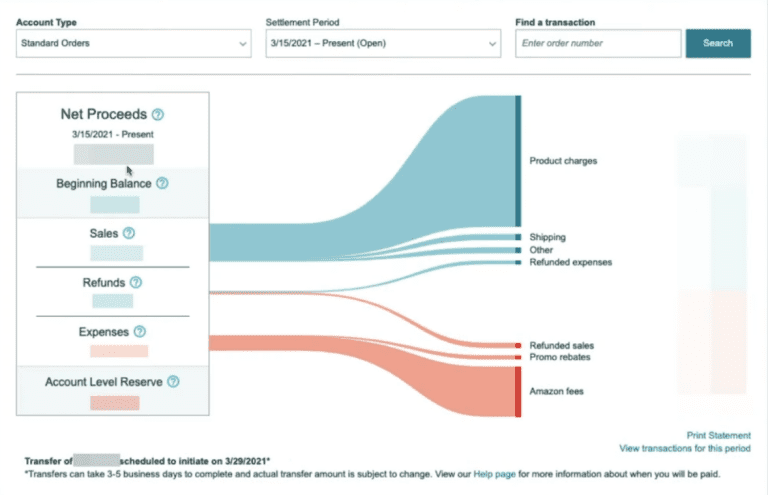 Net Proceeds: this is the expected payout amount for the payment cycle
Beginning Balance: the reserve level from the last payment cycle
Sales: how much revenue you sold in the period
Refunds: reimbursements from Amazon
Expenses: including your professional account monthly selling fee, commissions on sales, shipping fees
Account Level Reserve: an amount of revenue that Amazon is holding for a time period
Whatever the time period in your Account Level Reserve is, it will roll over to the following period's beginning balance.
Understand Your Amazon Settlement (Payout) Amount: How to Read Amazon Seller Payment Reports & Dashboard
After your Amazon Settlement (payment) date, you can view your Amazon payment statement. This reports your payments and the detail of your fees, reimbursements, and transactions associated with your orders.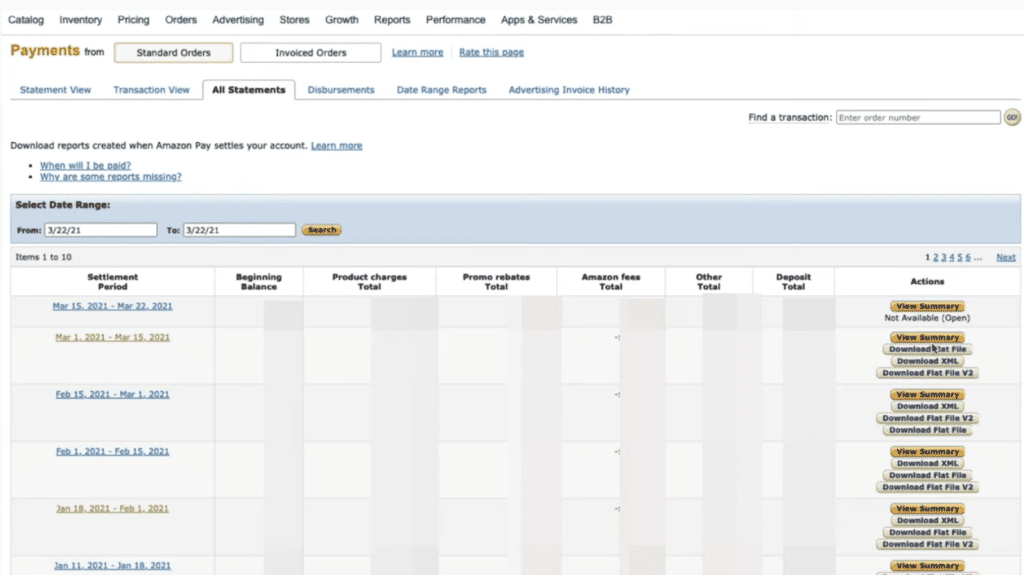 Navigate to the Amazon Payments Statements by Going to:
Reports > Payment Dashboard > All Statements tab
Go to a closed settlement
Download the flat file (.txt)
Copy the .txt file contents to an Excel file or Google Sheet to make it easier to read
Amazon Payments Summary Statement
An easier way to view this data in summary is by going back to the Chart of Accounts and clicking View Summary (bottom right-hand corner) > Print Statement. This statement summarizes the total sales, refunds, and expenses by category.
Amazon Payments Information By Transaction
Another way to see this information is by transaction. Navigate to Reports > Payment Dashboard > Transaction View.
This will display all the transactions. Click a transaction to see them break out of the fees. You can also filter the information by transaction type in the transaction view, such as Order Payment, Refund, and Chargeback Refund. Service Fees, etc.
Keep in mind that the total net money that Amazon is paying you is not the same as your profit. That is the amount that Amazon is paying you, but you still have to subtract your product cost from purchasing the item to know your profit.
You can select "Other" to view your Amazon Reimbursements, such as if a customer did not return an item or if there was warehouse or carrier damage. It typically takes 45 days for Amazon to pay these reimbursements.
If you select "Shipping Service Purchased Through Amazon," this refers to your FBM shipping labels, not your FBA shipping. Select "Service Fees" to view your FBA professional account fees, shipping label fees, and removal or disposal fees.
Eligibility For Amazon Payout
To be eligible for Amazon Payout (money sent to your bank account), you must have:
Double-check your bank account and credit card information if you have positive funds but aren't receiving the payout.
Amazon Seller Payment Disbursement Schedules
Amazon Seller payment disbursement (Settlements) occur every 14 days. Every 2 weeks, sellers will receive an automatic payment from Amazon, and the settlement date will close.
You can select to receive payment early, but it won't be the full amount. You can see the current payment amount available if you choose to get paid now by navigating to Statement Views > Funds Available > Now.
Any sales that have passed the 7-day Amazon account level reserve holding period will be available for payout. If you choose to be paid early, you will reset the payment date, so your next payout date would be 14 days from your early payout.
Whether you choose to be paid through the automatic Amazon Settlement payout or choose to be paid early, it will still take an additional 2-5 days for your funds to be transferred to your bank account (dependent on the bank).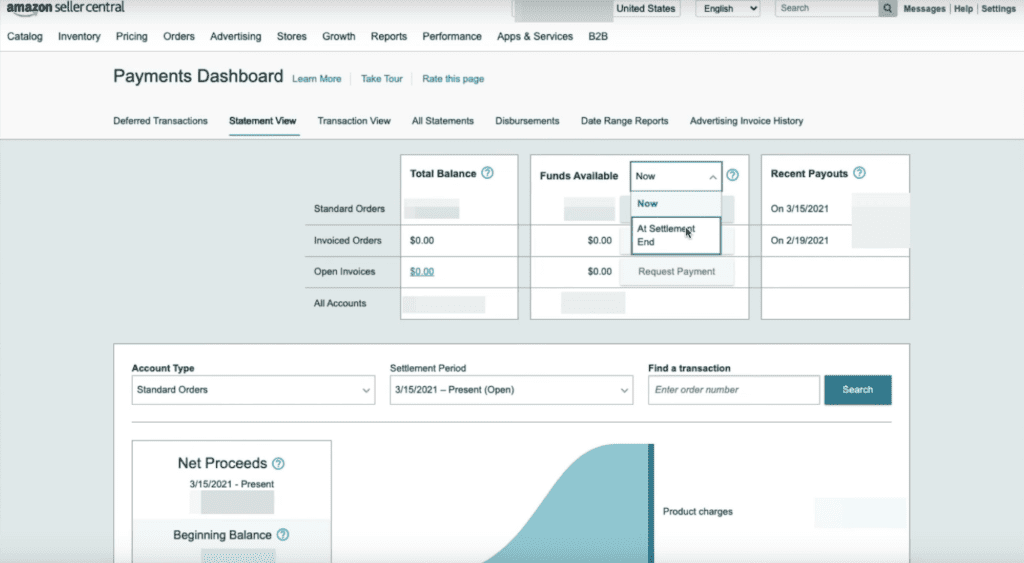 Receive Amazon Seller Payments Faster With Payability Instant Access
You can use a service such as Payability Instant Access to get your payouts from your Amazon sales faster.
Payability Instant Access allows you to receive the payouts as soon as the next business day after the sale. Like Amazon, they still hold back 20% of the money in an account for chargebacks and returns, but getting 80% of your revenue right away will increase your cash available to buy more inventory and stock your Amazon store.
Payability Instant Access's approval is based on your Amazon sales and account history, and there is no credit check required or obligation to proceed with the service after you apply.
Use my link to get a $200 bonus when you sign up for Payability Instant Access for next day Amazon payouts:
Understanding Amazon Account Level Reserve & Amazon Seller Payment Disbursement
I hope this blog post helped you better understand the Amazon account level reserve and all the transactions that make up your Amazon Seller payment disbursement. In our businesses, it's essential to understand our expenses, cash flow, and the resources available to expedite our payments so we can run a profitable Amazon FBA business.
Click here if you would like to see the video version of this information. You can also learn more about Amazon FBA, Amazon Selling, and retail arbitrage through my Beginner FBA Amazon course.