When you're a beginner, it's overwhelming know which are the best items for retail arbitrage. The best products to sell on Amazon FBA will of course earn you a higher profit margin. I started my retail arbitrage business in 2017 and sent in my first shipment after two weeks of sourcing and scanning.

Now my Amazon Selling is a six-figure business. This blog post will share the categories, stores, and best items for retail arbitrage when you're just starting.
New sellers are gated from some of the more profitable categories. Here, I suggest some of the best items for retail arbitrage while you are still gated. However, getting ungated is the best way to level up your new retail arbitrage business. For guidance in that process, check out my Ungating Guides. You'll make back the cost of the guides on your first shopping trip.
Best Stores For Retail Arbitrage For Beginners
As a new seller, your best strategy is to shop at stores that sell discount, markdown, and clearance items. I tried lots of different stores when I started. Here is my list of the best stores for retail arbitrage for beginners:
I think the clearance aisle at Walmart has the best items for retail arbitrage beginners to start sourcing. Some stores have better clearance aisles than others, so if you're not having luck at one store, try another. The key is to scan everything until you find profitable items.
Mom-and-Pop Discount Stores
If you're struggling to find items to sell, try sourcing from local mom-and-pop discount stores. You can find these stores by looking at Google Maps or just by driving around town. The best items for retail arbitrage look brand new in gift-level packaging.
You may even be able to befriend the store manager. You could potentially ask for alerts when certain types of items come in, so you get the first shot at purchase. 
Other Lesser-Known Best Stores For Retail Arbitrage:
Some stores aren't as frequented but have a great selection for your retail arbitrage product list: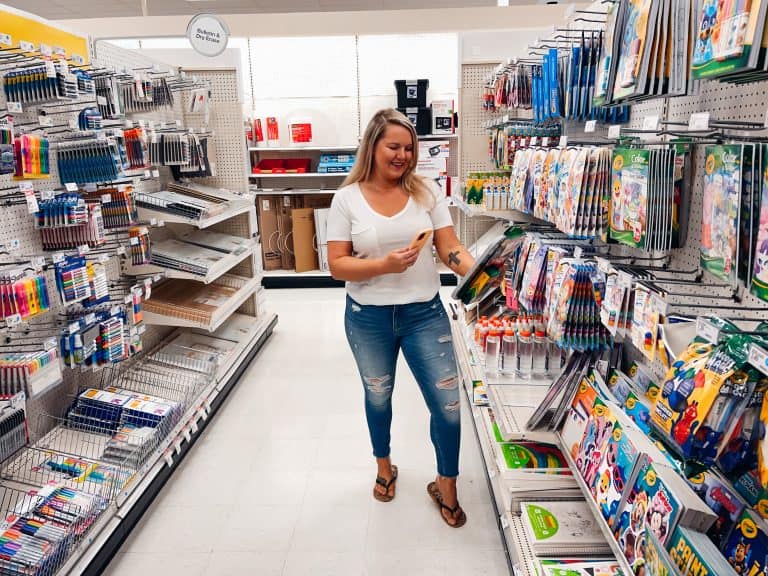 Best Categories For Retail Arbitrage For Beginners
Some categories and departments have more profitable products for retail arbitrage. A tip for beginners:  if you find a profitable item in one category, scan other items in that same category or genre. You will likely find a similar product that will also sell well.
I asked my BOLO group for recommendations for the product types and best categories for retail arbitrage beginners. These are categories and departments that do not require you to become ungated. Here are their suggestions:
Remember, the very best for retail arbitrage require you to become ungated in that category. I provide ungating guides so you can start selling in these very profitable categories:
My First Shipment: List of Best Items For Retail Arbitrage Beginners
I'm so glad I kept video and records of my first sourcing trips and shipments as a new seller. You can take a peek at my first sourcing trip in this video.
Now, I'm honestly amazed at how well new sellers in my BOLO group do with their first shipments compared to when I started. Amazon FBA sales have taken off since the pandemic, and products are selling as if it's Q4 year-round. Now is a great time to be a retail arbitrage beginner.
What should you scan when you start retail arbitrage? Everything! Just because you wouldn't buy it or need it, doesn't mean other people don't. That's how you learn which kinds of products are the best items for retail arbitrage.
My first shipment had some wins and some duds but overall was a great learning experience. Here are examples of successful items in my first few shipments as a new Amazon FBA seller:
Example Item to Sell on Amazon FBA: Odor Eater Insoles
This was my first big profitable product when I started as an Amazon FBA seller. I found it in Walmart Clearance for $3 and sold it on Amazon for $15. It was one of the best items for retail arbitrage that I found, so I started selling every one I saw.
I sent my first shipment of 25 items on August 17th, 2017. New sellers should wait until you have at least 20 items to ship to consolidate your shipping costs. Building success takes time. I remember the first time I hit $1,000 in sales in one day was on Cyber Monday, and I went on to have many more $1,000 days after that.
Finding a Retail Arbitrage Sourcing List
Of course, the list above are just examples, and there isn't one overall retail arbitrage sourcing list. The best items for retail arbitrage will vary by store and location. Prices constantly change on Amazon, so product margins always fluctuate too.
If you want a current retail arbitrage sourcing list that is current to Amazon prices, the season, and trends, I recommend joining a BOLO group.
These are groups of Amazon Sellers who share profitable finds and support each other in growing their business. BOLO groups are great for learning retail arbitrage for beginners and are helpful for seasoned sellers too. Click here to join my group of inspirational Amazon FBA sellers.
Sourcing Tips For Retail Arbitrage Beginners
I hope this gave some of you retail arbitrage beginners ideas to get out there and start sourcing! My number one tip for new Sellers looking for the best items for retail arbitrage: You can't focus on what you can't sell – or you'll miss all the stuff you can.
For example, if you're gated in toys, don't sell toys. Try finding new kinds of products to sell in the clearance section, then once you have a winner, look for similar items. Remember my first shipments and how random my most profitable items were. 
You can't focus on what you can't sell – or you'll miss all the stuff you can.
If you're ready to graduate from the beginner level and make your retail arbitrage business more profitable, you need to get ungated.
Check out my Ungating Guides. I keep the cost low, so they're accessible to sellers starting their new business, but the guide will pay for itself in your next sourcing trip when you become ungated for the best items for retail arbitrage.
Retail Arbitrage For Beginners: More Resources
If you want to see more of the products that were wins and duds from my first sourcing trips, be sure to check out the video version of this post. I share even more of the best items for retail arbitrage that I found when I started. It is cool to see how far I've come with my Amazon FBA business!
If you want to jumpstart your Amazon FBA business, check out my Beginner FBA course. I'll teach you all the ins and outs so you don't make the same mistakes I did when I started!