Here's a top question I get: "Is starting Amazon FBA a profitable business with retail arbitrage?" The amount of inventory, time of year, types of products you sell, and level of effort you put in impact your Amazon FBA profit margin. Therefore, the question of a "good profit margin" for Amazon FBA dramatically varies.
I like to be transparent about my business to help beginner Amazon FBA sellers learn. In this blog post, I share how I calculate Amazon FBA profit. You can use this information to decide for yourself whether Amazon retail arbitrage is profitable and worth it.
Is Retail Arbitrage Profitable For Amazon FBA?
The truth is so many courses try to market Amazon FBA as a "get-rich-quick scheme." Selling retail arbitrage on Amazon will not get you rich quickly. To be honest, it probably won't even make you rich.
Amazon FBA retail arbitrage will allow you to run your own business and schedule without the usual hassles and expenses of starting your own company from scratch.
If you were starting your own business, you would have to source customers, manage warehouse inventory, fulfill orders, and handle customer service. Selling on Amazon FBA is easier because they will operate all of that for you.
It is also much less expensive to start a profitable business on Amazon FBA. You can begin with just $500-1000 and add as much or little capital as you'd like.
Despite these benefits, starting an Amazon FBA profitable business still requires investment and time. You will have to wait 4-6 weeks for your first payout from Amazon, and it will take even longer to put your overall Amazon FBA profit margin in the black.
If you're an Amazon FBA beginner, you can make starting your retail arbitrage business easier by learning with my Beginner FBA Course.
Get a Head Start in Selling!
What is a Good Amazon FBA Profit Margin?
You can't compare your Amazon FBA profit margins versus other sellers. Every Amazon FBA seller's efforts, time, and capital are different. You can gain ideas and inspiration from others' profitable retail arbitrage businesses, but you need to set your own goals and choose how much to invest.
For example, I am a part-time Amazon FBA seller. On average, I spend one long day per week sourcing, then two days packing and shipping. I make $2,000-5,000 in Amazon FBA profit per month. My Amazon FBA profit margin varies by season, the products I'm selling, and my priorities.
I had a great March 2020 and made a $5,000 profit in one week because I was putting in a lot of hours and selling a hot product through FBM. The same month a year later, I only made $1,500 Amazon FBA profit for the month because I was more focused on my RV renovation.
I can't compare my Amazon FBA profit per month to full-time sellers. When an Amazon FBA seller shares their profit or revenue, you don't always know how much capital they've invested or how many hours they've been working.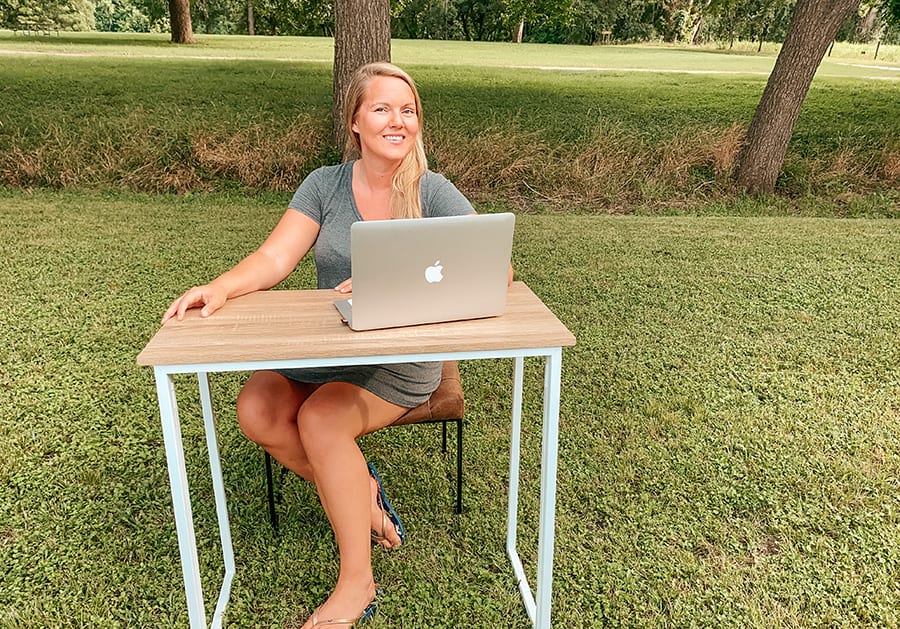 Calculating Amazon FBA Profit Margin
Regardless of these variables, it is still helpful to know what to expect when starting an Amazon FBA profitable business. Below is an example Amazon FBA profit calculator based on my actual costs and payouts when I was a new seller in August 2017.
You will want to go into Amazon FBA with a 6-month mindset. Understanding the costs and how long it takes to make a profit on retail arbitrage will set you up for success and limit your frustrations. On the flip side, it's encouraging to see how your Amazon FBA profit margin will snowball and grow into a profitable business.
Example Amazon FBA Profit Margin Spreadsheet
Here is how I set up my example Amazon FBA profit margin spreadsheet:
Investment/Payout
(Amazon Payout Amount)
Amazon FBA Profit Margin (est. 35%)
= (Amazon Payout Amount) * 0.35
Overall Amazon FBA Profit Margin For the Business
(Overall Business profit after previous profit payout) + Amazon FBA Profit Margin for this payout
The Investment/Payout Amount:
Either a cost to my overall business (like a course and my supplies) or the payout amount in my check from Amazon
Amazon FBA Profit Margin (35%):
This is my average Amazon FBA profit margin according to the Sellerboard calculator. That means that for each product I sell, they estimate 65% of my revenue is the cost of goods sold (what I paid for the product at the store) and fees, and 35% is profit.
35% is an average Amazon FBA profit margin, but yours may differ. Amazon FBA profit margins can also vary by quarter. For example, your Q4 profit margin may be closer to 50%.
Overall Amazon FBA Profit Margin:
This is my total net profit from my business to date after I have paid all the business costs. I can either reinvest this money into the business or take it as a paycheck for myself.
Now that you have an understanding of my Amazon FBA profit calculator, below is my Amazon FBA profit spreadsheet from the first 6 months of my business: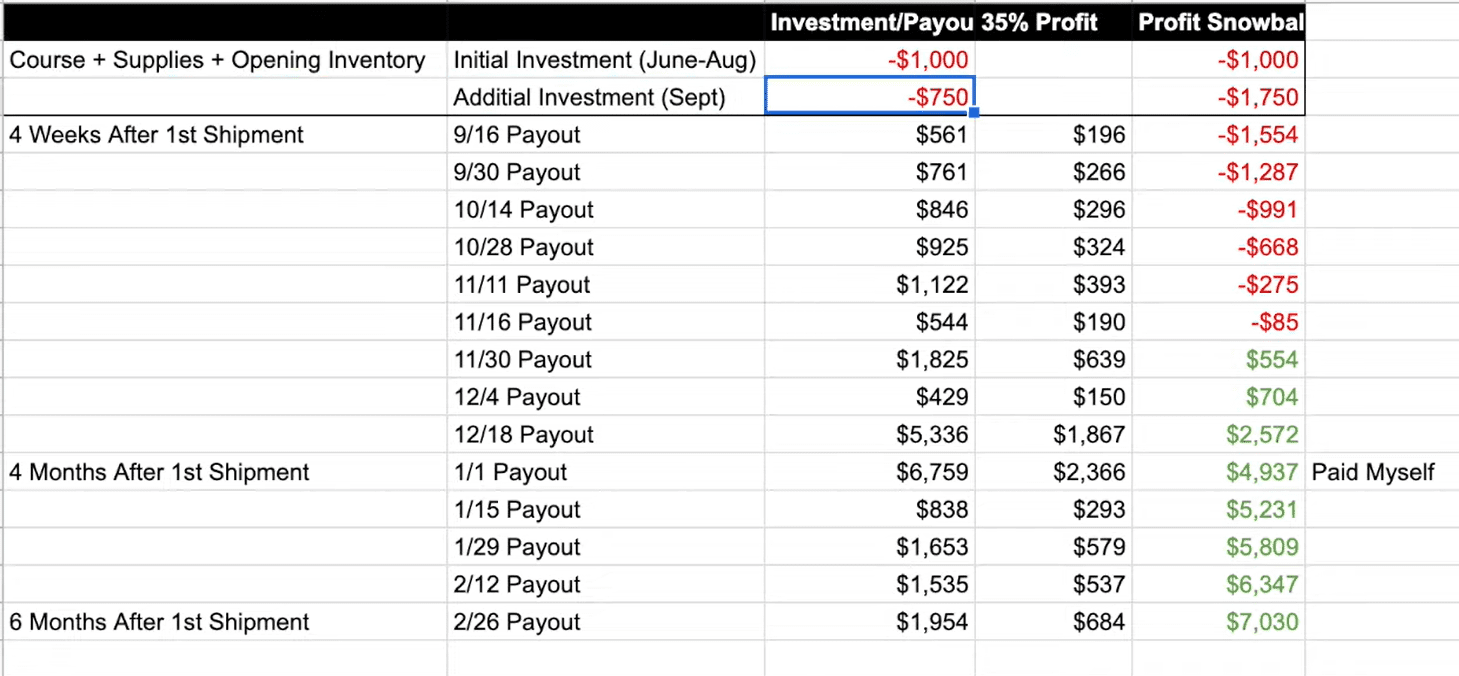 Let's break the Amazon FBA profit margin table down by milestone:
Month 1: Beginner Amazon FBA Initial Investment
My initial investment into the Amazon FBA business was about $1000. I spent:
That means that as of September 2017, my starting Amazon FBA profit was -$1750. That is my own money that I used to start the business. You can spend more or less capital on starting Amazon FBA. The amount you spend on inventory is very flexible to how much you want to commit to your new business.
Month 3: Amazon FBA Profit Break-Even
It will take 4-6 weeks before you receive any revenue, i.e., a payout from Amazon. I started my business in August and received my first payout four weeks later, on September 16.
For the next three months, you can see my payout amounts increasing. As I received more payouts, the ratio of my initial debt decreased. Finally, with my November 30 payout, I broke even. It took me about three months to make back the money I had initially invested in the business.
Month 4: Making an Amazon FBA Profit Margin
After breaking even, my Amazon FBA retail arbitrage business continued to be profitable. You can see how my payouts grew and my Amazon FBA profit margin for my company accumulated.
After four months, I finally took my first paycheck from my Amazon FBA profits in January 2018. When you start paying yourself is up to you and your needs. You can enjoy your earnings or reinvest your Amazon FBA profit margin into your business. The more inventory you buy, the larger your payouts and profits become.
You can see from this example that you need to give your Amazon retail arbitrage business time to become profitable and worthwhile. Your Amazon FBA profit margin timeline will vary by how much money and time you invest.
Right before Q4 is a great time to start an Amazon FBA business. Starting during late summer will position you to take advantage of the most significant volume of sales and profits quarter of the year!
How to Improve Amazon FBA Profit Margin
I could have accelerated my Amazon FBA profit margin timeline by getting ungated for more profitable categories in my first few months. This is one of my biggest mistakes when starting my business. I created ungating guides to help new sellers make their retail arbitrage profitable sooner. 
These guides will take you through the step-by-step process of getting ungated to sell toys, groceries, topicals, and premium brands. The most valuable part of the guides is the included access to my online community of supportive retail arbitrage sellers.
Is Amazon Retail Arbitrage Profitable and Worth it?
Retail arbitrage through Amazon FBA is profitable and worth it, but you need patience and the right expectations. You will not make fast money with this business. However, you can build it into an income stream that gives your life more freedom and flexibility.
Video Version: When Will You Make a Good Amazon FBA Profit Margin?
If you would a more in-depth explanation of my Amazon FBA profit margin journey, check out the video version of this post. I post new weekly videos to help Amazon retail arbitrage sellers build successful businesses.