When you start your retail arbitrage business, you're going to have questions about how to sell on Amazon for beginners. I made a list of the most common questions from Amazon FBA beginners about how to start selling. I hope the answers help you start your Amazon selling journey!
Q: What scanning app should I use?
When I'm in-store, I always use the Amazon seller app. It is a free app for iPhone and Android that comes with your Amazon selling account. You just log in with the email and password for your Amazon account. You cannot use this app until you're approved for a seller account. If you want to learn the tips and tricks to using this app, check out my Amazon Selling App video.
Here are some other scanning apps that many Amazon FBA retail arbitrage sellers use:
Keepa
I also frequently use Keepa in-store. If you'd like to learn more about when and how I use this app, read my in-depth blog post on Keepa.
Q: How do I calculate profit?
In my "come sourcing with me" videos, I talk about my estimated profit from my sourcing day. Retail arbitrage beginners sometimes confuse revenue and profit. In my videos, I talk about profit, which is the money in your pocket after you pay all the costs of doing business, including the cost of goods sold, Amazon fees, and shipping costs.
If you sign up for my email list, you can estimate your profit using my free worksheet. Inventory Lab is another great tool for estimating your profit. Their built-in calculator shows your estimated profit after you ship your products.
You can also use the Amazon seller app to see the profit for any specific item. Here is an example of a plush toy I scanned. Click the product details screen to see the breakdown of your costs and fees, and enter your product purchase price to calculate the profit.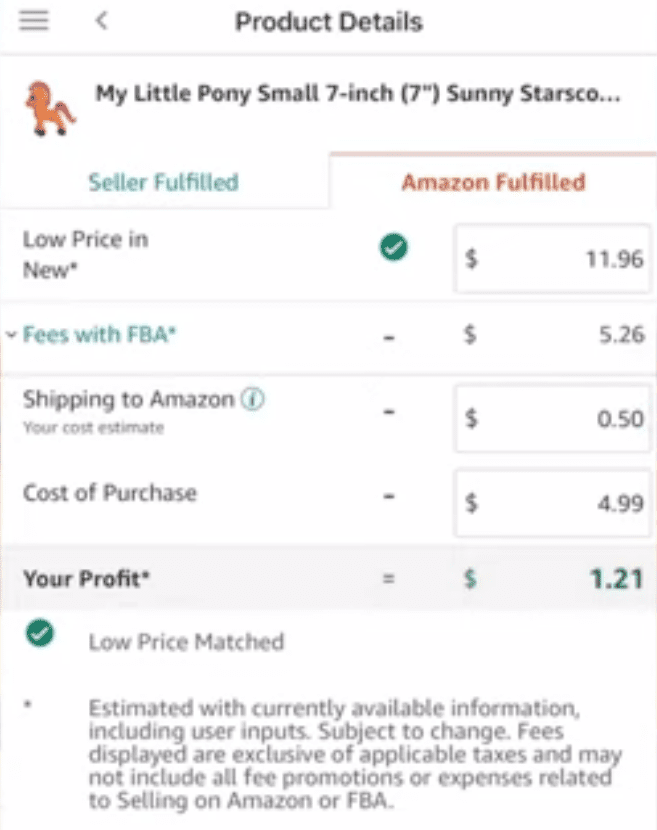 Q: How do I calculate ROI and keep track of expenses?
The Seller Board software and app tracks your profits and uses that information to forecast your monthly profit, margins, and ROI. I love how it pulls in the photos of the products you've sold. The Seller Board's standard plan costs $19 per month (or $15 a month with annual billing).
Quickbooks is a popular bookkeeping and accounting software. It's not difficult to use, but it can take some time to learn, especially for those new to running an Amazon Seller business. I wish I had been using it from the beginning. It ties together all your financial accounts for easy tracking.
Make sure you run your business on a separate bank account and credit card, completely separate from your personal expenses and money, to make bookkeeping easy. Quickbooks does not directly integrate with Amazon, but you should only use your financial accounts for your Amazon Seller business costs and payouts.
Here's a cost-saving tip: if you sign up for Quickbooks and then go to cancel, they may offer you a cheaper pricing plan.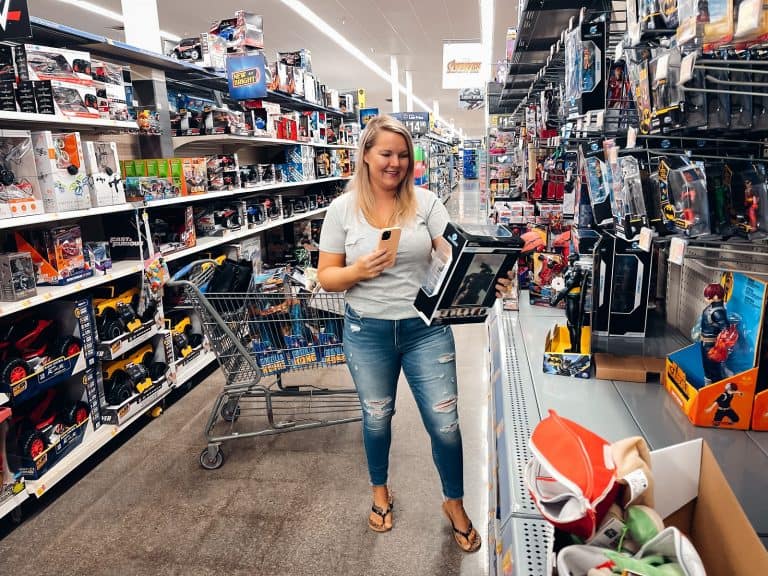 Q: Do I need a business license, LLC, or a professional Amazon account to start Amazon FBA?
This is a common question for those wondering how to sell on Amazon for beginners. You do not need a business license, LLC, or professional Amazon account to start an Amazon FBA business.
If you have limited funds or just want to play around and see if you enjoy retail arbitrage, you can start with a free, individual Amazon account. However, you will pay an extra $1 per item fee on anything you sell.
A professional Amazon account is a small investment of $39 per month. If you sell 40 or more products in a month, the professional account is automatically worth it. It also grants you access to the Buy Box. You can switch back and forth between the individual and professional accounts whenever you'd like.
You don't need an LLC or business license to sell on Amazon either. You can get a sales tax certificate and start as a sole proprietorship, but I recommend getting an LLC or business license for legal protection as your business grows. An LLC or license can also help you get ungated for some categories. If you want more about that, check out my ungating guides.
You can switch from a sole proprietorship to another type of business entity anytime in your Amazon Seller account. Just update the tax information. Your legal entity must match your Amazon account invoices, and I don't recommend switching during an ungating process.
Q: How does sales tax work for new Amazon sellers?
Thanks to marketplace facilitator laws, Amazon collects and remits the sales tax for you. It used to be that you still had to remit your own sales tax in certain states, but Missouri was the last hold out, and their marketplace facilitator law goes into effect on January 1, 2023. So now Amazon Sellers don't need to manage sales tax in the United States, which is a big relief!  For more information about sales tax, read my blog post about it.
Paying your own taxes is straightforward. I use an accountant now, but I used TurboTax for the first few years. Amazon breaks down all the business expenses that you can deduct. As long as you keep your business and personal finances separate and your bookkeeping clean, paying your taxes should be a breeze!
However, remember, I am not a tax or business expert. You should do your own research and ask a CPA your tax questions.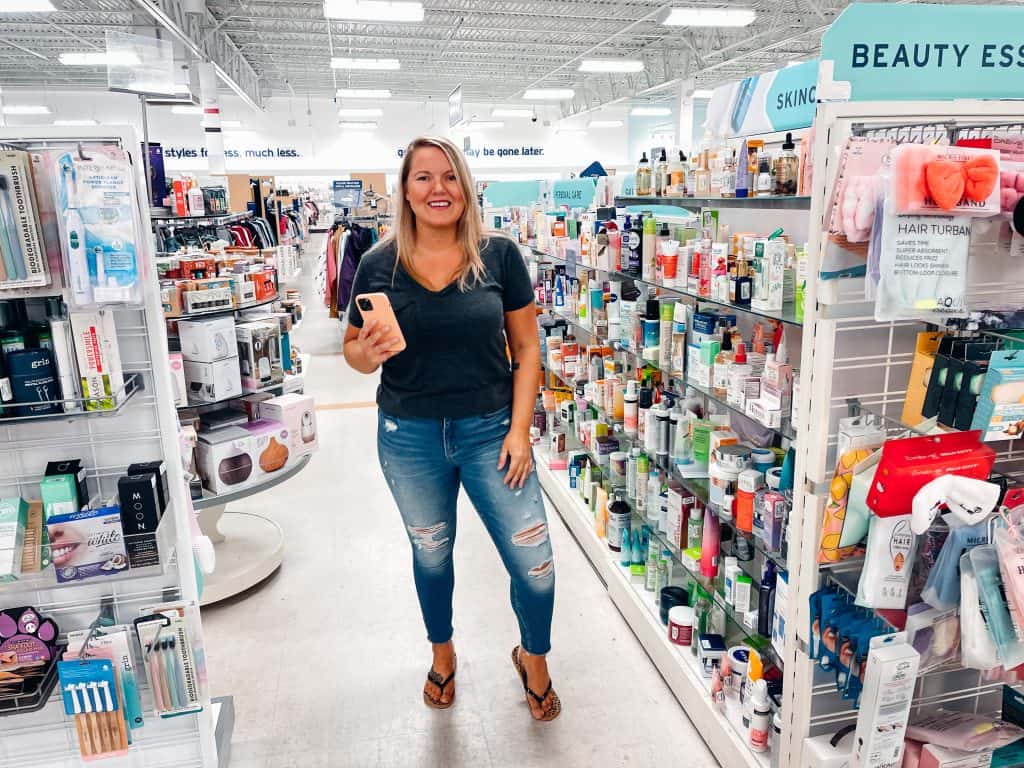 Q: How often should I source my retail arbitrage products?
How often you source is up to you. It depends on how quickly your inventory is selling and your schedule. Some retail arbitrage sellers source multiple times a week, while others go every other week or so. I usually source once every other week but visit multiple stores on my sourcing day.
Some sellers say you should only visit a store once every two to three weeks to allow time for the stock to turn over, but you will learn the stocking patterns at your local stores, and develop your own sourcing routes and frequencies.
Q: What should I do about toys compliance?
Sometimes sellers will receive a notice from Amazon that they need to supply compliance documents for their products, especially toys. Not every toy will need a compliance document, but if it does, every seller is supposed to provide it, regardless if another seller on the listing has already supplied theirs.
These documents prove that the product is authentic. Their purpose is legal protection for Amazon if a consumer gets hurt. Toy compliance documents come straight from the brand or manufacturer, but it's complicated for retail arbitrage sellers to obtain them since we don't have business relationships with these companies. While it's not a guarantee, my ungating group may be able to help you get these documents.
If you get a notice from Amazon that you need to supply this document, it doesn't necessarily hurt your account, but your listing may get deleted, and your product may go to stranded inventory. However, you may be able to relist the product or get the merchandise back to return it to the store. For this reason, I don't worry too much about these compliance documents, but you need to make your own decisions for your own business.
Want to get ungated in Toys?
Learn more about toys compliance and how to sell in restricted categories
Q: What is my $5 / 50% minimum ROI rule?
Every retail arbitrage seller will have a different product profit threshold that they're comfortable with for their retail arbitrage business. My personal rule is that I will not buy a product unless the return on investment is a minimum of $5, or 50% if it's a product that costs more than $20.
I picked this rule because Amazon prices constantly fluctuate, so this protects my profit margin, time, and resources in the cast of a price change. However, you will find a profit minimum that works for you.
Q: What sells on Amazon during Q4?
In short – everything! Many Amazon FBA beginners think the Q4 boom is just for toys and holiday items, but household goods, groceries, etc., also sell more in the last quarter. Q4 is a good opportunity to try selling products with a higher sales rank.
Q: How do I get out of a scanning rut?
Try scanning in a new aisle, store, or town if you're hitting a wall in finding profitable products for your retail arbitrage business. A BOLO group is a great way to learn about new stores, products, and categories. Here's the link to join mine.
The Answers to Selling on Amazon For Beginners
I hope I answered some of your questions about how to sell on Amazon for beginners and retail arbitrage for beginners! You probably still have more questions. A great next step would be to take my Beginner Amazon FBA course, which covers everything you need to know to start your Amazon FBA business. You can also check out my blog and YouTube channel to learn about more topics and leave a comment with your questions!
Video: Q&A - How to Sell on Amazon For Beginners