Even after five years of selling, I'm still learning new Amazon FBA tips and tricks to make my retail arbitrage business easier. The Your Selling Guide community shared some of these Amazon FBA hacks. I discovered some of these Amazon FBA tips on my own. Even if you're an experienced seller, I bet at least one of these retail arbitrage hacks will make you more efficient.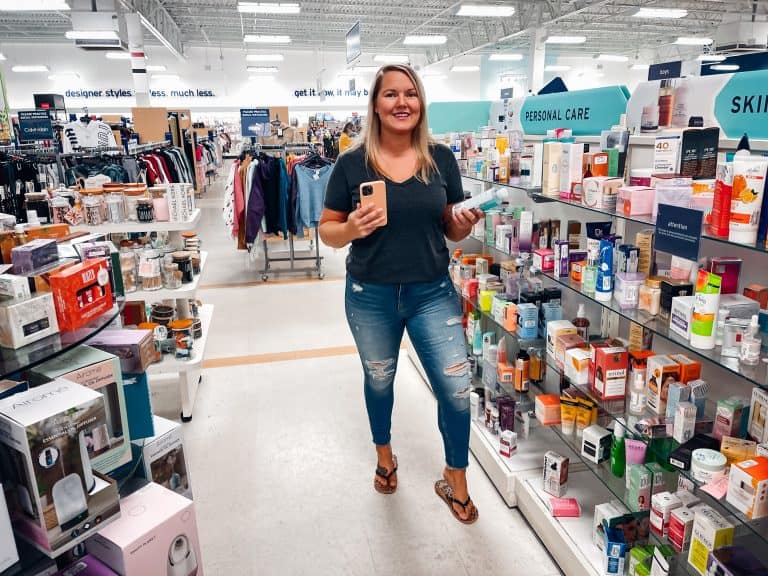 Amazon FBA Tip #1: Use Keepa's Buy Box Statistics
Keepa is a must-have app for retail arbitrage sellers.
The free version is helpful, but the paid app offers worthwhile tools. Buy Box Statistics is one of Keepa's newer paid features.
After you scan an item, scroll to the tabs on the bottom right, and click 'Buy Box Statistics.' It shows the percentage of time each seller gets the buy box.
Amazon shares the buy box approximately 5-8% of the time. I personally avoid selling any item Amazon is also selling, but this is a handy way to see if you have a shot at the buy box.
If other sellers win the buy box most of the time, selling against Amazon may be worth the gamble.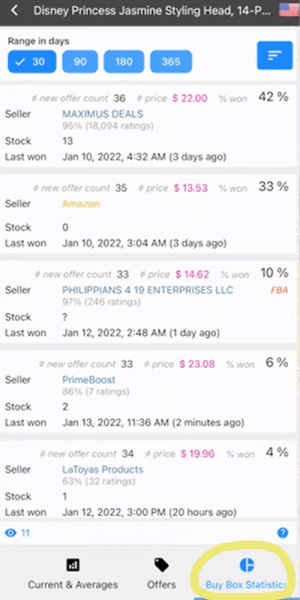 Amazon FBA Tip #2: Find the ASIN on the Amazon Seller App
The ASIN (Amazon Standard Identification Number) is a unique identifier for Amazon products. When you scan an item, the Amazon Seller app usually lists this number in the "Details & Features" section.
However, use these Amazon FBA tips if you can't find the ASIN on the listing. This quirk drove me crazy until I learned about this Amazon FBA hack. Select "List" on the bottom right tab, and the ASIN will show right under the product title. Now you can easily copy the number to insert it into the Keepa app.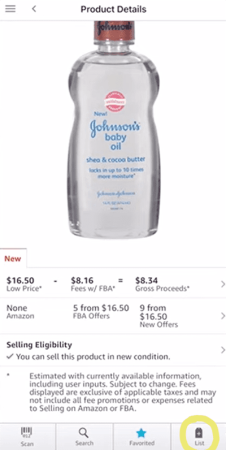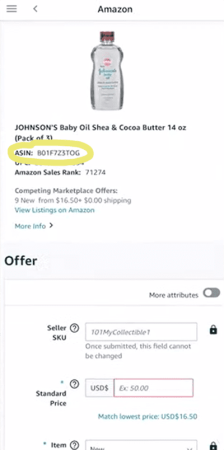 Amazon FBA Tip #3: Identify Counterfeit Amazon Listings
Your Amazon Seller account can receive two kinds of complaints: IP or counterfeit. The owner of the product rights can make an IP complaint. However, any seller can submit a counterfeit complaint.
Ensure you don't sell an item under a counterfeit listing to avoid complaints. Look at the listing titles to see who created them.
For example, "Marvel Studios' Shang-Chi Morris Plush Character…" by Mattel is a genuine listing, while "Houqilin Morris Shang Chi Plush…" by Huoqilin is a counterfeit listing.
You want to check that the "by" line is the actual brand that produces the product.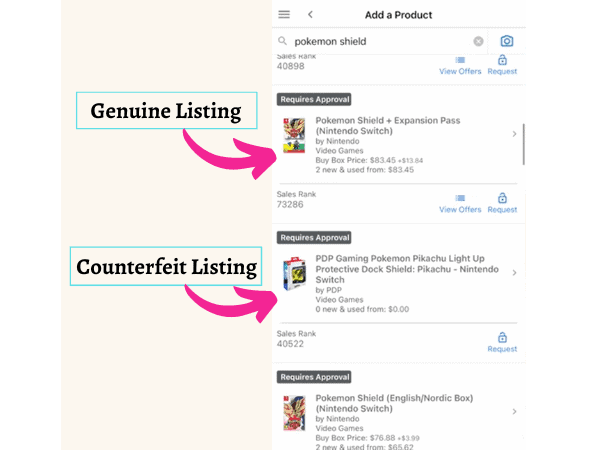 If your seller account does get a counterfeit or IP complaint, you need to address it quickly. Here are some additional Amazon FBA tips: I provide a complaint removal plan of action to members of my BOLO group. To access it, join the group here, and click "POA" in the group's announcement section.
Amazon Tip #4: Print Additional Amazon FN SKU Labels
Use these Amazon FBA tips to print more FN SKU labels easily.
In your Amazon seller account, navigate to 'Manage Inventory.' Select the items you want labels for, and click the 'Action' dropdown > 'Print item labels.' From here, continue to the next page to select the number of labels you want to print. 
Amazon Tip #5: Check If the Buy Box Price Is Higher
This Amazon FBA hack can potentially fetch you a higher profit.
Amazon will always show the low price on the Amazon Seller app listings. However, the buy box price could potentially be higher. Click on the sellers, and note whether the buy box price is different from the sellers' prices.
If the buy box is higher, that's the price currently being displayed to potential customers. Therefore, you could also sell the product at that higher price.
However, this is a risk, and you should only buy the product if you are comfortable with selling at a lower price. The lower-priced product could be currently unavailable to ship, and once they are, the buy box price will change to the lower price.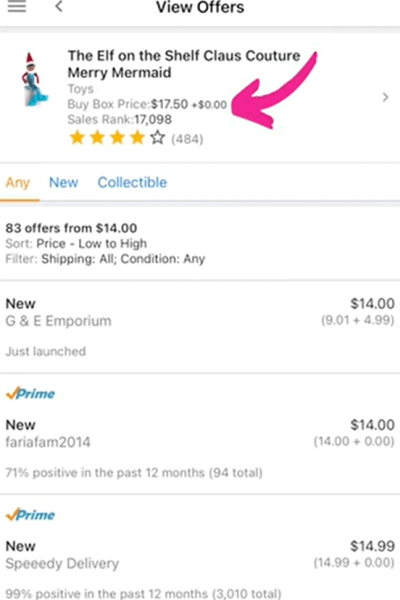 Amazon FBA Tip #6: Sourcing in Stores With No Cell Signal
Here's are three retail arbitrage tips if you're scanning in a store without cell signal, making it difficult to use the Amazon Seller app or Keepa:
Amazon FBA Tip #7: How to Call Amazon Seller Customer Service
If you're having an issue and struggling to reach Amazon customer service, you will get faster, better response on the phone versus a help email. Use these Amazon FBA tips to call Amazon Seller Help.
Start a Help ticket. At the bottom of the ticket page, select 'my issue is not listed.' Next, select 'I don't have an identifier' > 'Contact Method' > then select the 'Phone' tab.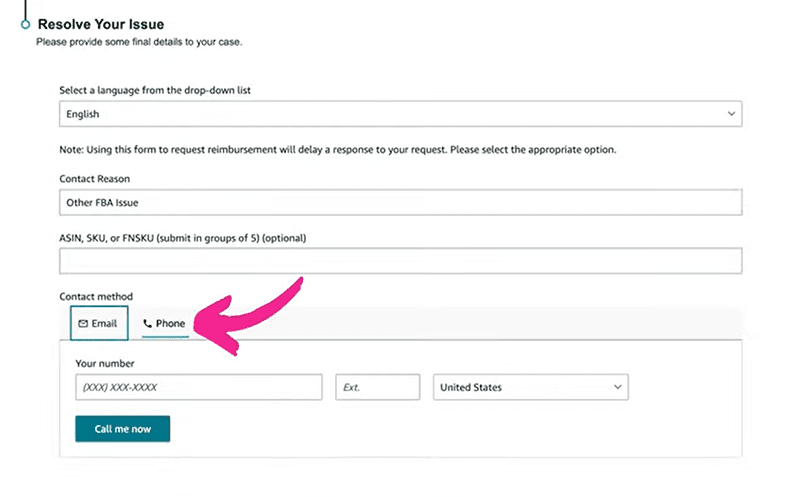 This path will connect you to higher-quality assistance with an Amazon help representative right away.
Amazon FBA Tip #8: Don't Ship With Walmart Boxes
This issue was driving me crazy until I realized that I wasn't alone! For some reason, shipping tape does not stick to Walmart boxes. I tried so many tape brands until other sellers told me that the issue was with the boxes. I switched to Lowes boxes, and now I have no problems taping up my shipments.
Want More Amazon FBA Tips, Tricks, & Hacks?
These are just a few miscellaneous Amazon FBA tips to make your Amazon Selling business easier. If you want more, you should subscribe to my YouTube channel. I share retail arbitrage tips and guides every week.
For a more in-depth explanation of these Amazon FBA tips, watch the video version of this post, "8 Awesome Amazon FBA Hacks."