If you're a retail arbitrage seller you may have considered using an Amazon FBA leads list to jump-start sourcing. However, buying Amazon online arbitrage leads can be expensive. Are buying lists worth potentially cutting into your bottom line?
I've always wondered about these sourcing lists, so I enlisted members of my community to buy and test five of the most popular options. We compare and review each list below. Read on as we answer the question: is an Amazon FBA leads list worth it, and if so, which are the best online arbitrage lists?
What Are Amazon Online Arbitrage Leads Lists?
Most of the paid Amazon FBA leads lists are for online arbitrage. This type of arbitrage entails purchasing a product online to resell on a different online platform for a higher price.
Virtual assistants use Tactical Arbitrage to compile most of these Amazon online arbitrage leads lists. This software finds and matches items in online stores with Amazon to identify profitable products. The online arbitrage leads list company then compiles the product information and delivers it to their customer.
Alternatively, you could purchase the Tactical Arbitrage software to compile online arbitrage lists yourself, but this requires more effort.
What Are Retail Arbitrage Lists?
While sellers purchase products for online arbitrage through e-commerce, retail arbitrage products are purchased from local brick-and-mortar stores to resell online.
You can buy lists for retail arbitrage. You can also join groups, like my BOLO group, where members exchange sourcing leads to compile into retail arbitrage lists.
Join my BOLO Group to Get Retail Arbitrage Lists
Drawback Of An Amazon FBA Leads List
The more people who have access to the lead information, the more sellers will be on the Amazon listing. Therefore, the price and profit of the product will decrease. This is the biggest weakness of using an Amazon FBA leads list.
This problem is especially prevalent for Amazon online arbitrage leads. Everyone has easy access to purchase the product online. Therefore, if 300 people have access to an online arbitrage list, the odds that the product is still in stock and profitable to sell on Amazon are slim.
Amazon online arbitrage leads also require time to deliver to you before you can list and send the product to the warehouse. This longer turnaround time increases the risk of price fluctuation. 
A possible influx of sellers affects retail arbitrage lists less because product availability and store access vary by area. Retail arbitrage products can also be packed and sent to Amazon immediately, decreasing the time for the price to change.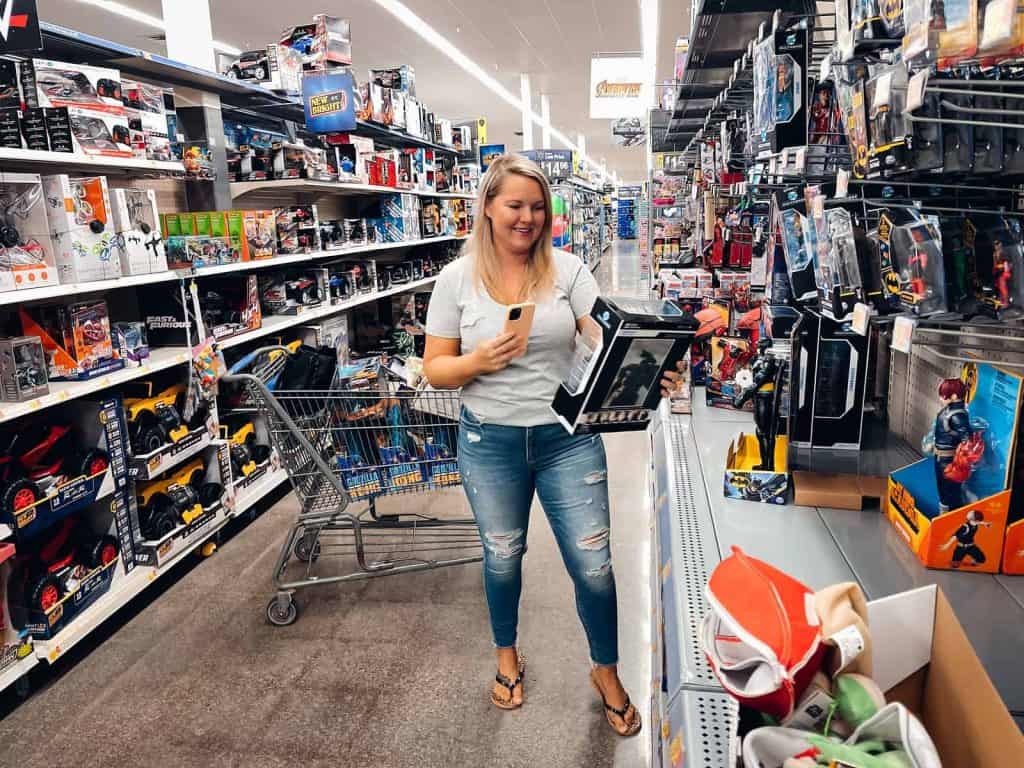 How to Use An Online Arbitrage List
Do not take online arbitrage leads at face value. You need to research Amazon online arbitrage leads just like you would with any product you scan.
Utilize Keepa to check the lead's offer history, make sure the lead is within your own rank and ROI guidelines, and check for possible IP complaints.
Some sellers use online arbitrage lists to purchase products for curb-side pickup, which allows them to pack and send the items to Amazon faster than competing sellers.
You can also use an Amazon FBA leads list to inspire your sourcing. Listed products may spark ideas for similar items and brands to scan. Use Amazon FBA leads lists to discover your own unique, profitable finds.
Reviewing 5 Online Arbitrage Leads Lists
Now that you know what an Amazon FBA leads list is, it's time to answer the question: are they worth it? What are the best online arbitrage lists?
Members of my community volunteered to try and review five of the most popular online arbitrage leads lists. For each list, we tested for the entire month of January.
Here are the pros and cons of each list according to my testers. I have absolutely no affiliation with any of these brands or Amazon FBA leads lists.
Amazon FBA Leads List 1: OA Beans

OA Beans has five different levels of Amazon online arbitrage leads lists, with prices ranging from $99-998 per month. Some are completely ungated lists, and some are mixed. OA Beans provides each list to a limited number of customers, usually about 25 users.
We tested two middle-tier online arbitrage lists: the Pinto bean and Navy bean. 
The biggest positive of this Amazon FBA leads list was the format. OA Beans delivers the leads around 10 AM each weekday in a neat, tidy, and easy-to-use list. They also utilize IP alert software (though you should check the IP yourself) and offer a 3-day money-back guarantee. If you're interested in trying these lists, there's usually a promo code available (Google to find it).
Navy Bean List
The tester of the Navy bean list said she usually accessed her lists about 10 minutes after they were released. Despite this, about 20% of the listed products had already sold out by the time she logged in.
She chose to purchase about 15% of the provided leads. Out of the five products she purchased, four were profitable. Two of those profitable products quickly gained a lot of sellers, reducing the profit.
The tester said that she expected better results for the price she paid and would not purchase the list again.
Pinto Bean List
The tester of the Pinto bean list said that about 6% of the leads had already sold out by the time she accessed the list. She purchased about 25% of the lead products, about 50 in total. She says that out of the 50 products, about 20% of them tanked in price before her product got to the warehouse.
The rest of her leads are holding steady prices but are not selling quickly. One product even yielded a 286% ROI! The tester said she would consider continuing to try the list.
The biggest negative of our test is that each list is supposed to be exclusive, but when we compared the two test lists, there were some product overlaps. For this reason, our Navy bean tester did utilize the 3-day, money-back guarantee, which OA Beans honored.
Overall, our tests yielded mixed results. The quality of the format is high, but the leads were less profitable than we hoped, especially as time went on and more sellers hopped on the Amazon listing. Some great Amazon online arbitrage leads yielded great profits.
However, our testers only deemed a small percentage of the leads worth purchasing, so it was difficult to make the price of the Amazon FBA leads list worthwhile. You might consider trying this list yourself, especially the less expensive lists, and see if you get better results.
Amazon FBA Leads List 2: OA Loot
Note: this Amazon FBA leads list appears to no longer be available
OA Loot is a Facebook group by E-commerce Empowerment that provides Amazon FBA leads lists in the Toys and Games, Retail Arbitrage BOLO, Clothing & Shoes, and Everyday Essential categories. It costs $123/month.
Members receive a daily Google sheet with about ten new leads each weekday. OA Loot warns members that leads are optimum for the first 24 hours.
Our tester purchased 40 items, about 14% of the list. Most of the items she purchased were from Walmart, Target, and Dollar General stores. Unfortunately, the price for most of the items tanked before she could send her product into the warehouse. According to Keepa, many items show Amazon on the listing or a recent seller spike.
In total, the seller profited only $237 from the list. She did say that the list was very well laid out with links to the Amazon listing and easy to use. The seller said this Amazon FBA leads list might be helpful for MFN. However, she would not utilize this online arbitrage list again.
FBA Buy Lists is an in-demand Amazon online arbitrage list. Our tester had to wait over six months on a waitlist to join, though the wait time varies. The list costs $150 per month.
FBA Buy List sends a spreadsheet with 10 Amazon online arbitrage leads every weekday, and there is Facebook Group support.
Our tester said the spreadsheet is user-friendly and includes the Amazon link, product link, and ASIN. She ordered about two products per day from the Amazon online arbitrage leads.
Each lead is supposed to have at least 50% ROI, and our tester says her experience lives up to that promise. This Amazon FBA leads list boosted her ROI, which is now over 70%.
This list is a major time-saver for our tester, who sells part-time and has limited availability to source. Her review is very positive, and she will continue to use it. This may be one of the best online arbitrage lists.
These online arbitrage leads have an unusual format. When you join, you get access to a group on Discord, where a bot will post eBay and Amazon leads onto the various threads. The cost to join the group is $99/month, and they do not list a limit to the number of members.
Since I was traveling all month, I did not purchase and thoroughly test the leads, so take my review with a grain of salt.
I did look through the leads, and it seems like most are from Walmart and a wide variety of online stores. I also don't think the leads' minimum profits are high enough. Some only have profits of $2-3, which isn't enough to account for prices coming down.
My biggest gripe with this Amazon FBA leads list is the disorganized format. It took 2-3 days to get onboarded to Discord. The format of the leads is inconsistent and doesn't include a spelled-out ROI (you'll have to calculate it yourself). West Coast Dealz does not compile the leads into a list, so it's a lot of manual effort to scroll through the threads and save information.
On the plus side, this approach may deter too many sellers from flooding the listing.
Honestly, the brand has a slightly sleazy, get-rich-quick vibe, especially since they tout, "are you ready to make 6-figures?" on the landing page.
The name is also confusing. This online arbitrage leads list can be used nationwide, not just on the West coast.
If you have the time and patience to browse these Amazon online arbitrage leads, it might be worth a try, especially if you sell on eBay.
Happy Hustlers is another Amazon online arbitrage leads list. It costs $125 per month and is limited to 50 members.
Members can log into their accounts daily to download a leads file with 20 leads per day. Members also have access to a Discord group, which does not see much activity.
The sheer volume of leads, 100 per week, is is a huge positive for this Amazon FBA leads list. Our tester said the system was straightforward, but you need to do your diligence with the leads.
 Lead accuracy seems to be a significant issue with this Amazon FBA leads list. Our tester found several online arbitrage leads with potential for an IP complaint. Linked products sometimes did not match the Amazon listing. Sometimes the linked product would be a different size, quantity, color, or version, making the lead unusable.
He also reported that the actual profit was lower than stated in the list 30-40% of the time. He thinks some of the leads may also be out-of-date, because the linked store was already out-of-stock for awhile.
The tester tried various items and categories and had the most success with pet products. He saw the prices tank quickly for many other items he purchased and sold. His results were mixed, and the number of errors in the leads made using it time-consuming.
Comparison of the Best Online Arbitrage Lists
| | | | | | |
| --- | --- | --- | --- | --- | --- |
| Online Arbitrage List | OA Beans | OA Loot | FBA Buy List | West Coast Dealz | Happy Hustlers |
| Price | Starting at $99/month | $123/month | $150/month | $99/month | $125/month |
| Number of Leads | At least 125 leads/month  for the starter list | About 286 leads/month | About 200 leads/month | 100s of leads per month (not consistent) | About 400 leads/month |
| Number of Other Sellers | Usually about 25 sellers per list | Unknown | Unknown | No limit | 50 sellers |
| Platform | Login to online account | Facebook group | Emailed leads + Facebook group support | Discord group | Login to online account |
| Format | Neat list, easy-to-use  list format | Daily Google Sheet | Easy-to-use spreadsheet | Bots post lead information and links into Discord | Download a list |
| Quality Assurance | 3-day money-back guarantee, IP checks | Easy-to-use list | Support provided in FB group | Inconsistent format | Many errors in lead product match or reported profit |
| ROI Test Results | Claim average 75% ROI, Experienced 46-286% ROI range | Our tester profited $237 in one month | At least a 50-70% ROI on all tested items | Not tested, but some ROI calculations as low as $2-3 | Claim all leads have at least 30% ROI, but results were mixed |
Retail Arbitrage Lists From a BOLO Group
These online arbitrage lists might be your key to successful sourcing. However, all of my testers reported that they had better ROI and profits with the retail arbitrage lists from my BOLO group. 
Compared to online arbitrage lists, all members must share at least one BOLO with strict requirements, such as a minimum 50% ROI. Using diverse, brick-and-mortar sources prevents crowded listings and price tanking. My members get access to 200+ quality leads per month and a supportive community for just $69 per month.
Video: Testing & Reviewing Amazon FBA Leads Lists
For more in-depth details about these five online arbitrage lists, check out the video version of this blog post. I post new Amazon Selling videos every week. My YouTube channel is a wealth of resources and tips for new and experienced sellers alike.