There's no shortage of Amazon FBA software tools for sellers. However, not every Amazon FBA app, software, extension, and resource is worthwhile. Don't cut into your bottom line by purchasing unnecessary Amazon FBA tools.
After six years of selling on Amazon, I've narrowed my business's tech stack to these five best Amazon FBA software tools that save time and increase my profitability.
Which Tools Do I Need To Start Selling On Amazon FBA?
Technically, you do not need any tools to start selling on Amazon FBA. You only need to open a free Amazon seller account and use their free Amazon Seller app.
However, time is money. The Amazon FBA software tools and resources in this article make sellers' lives easier, save money, and optimize profits.
In my experience, these are the top five tools to start selling on Amazon FBA: Keepa, Inventory Lab, a BOLO group, IP Alert, and Sellerboard. I ranked these Amazon FBA software options from "must have" to "nice to have."
Note: This article contains some affiliate links.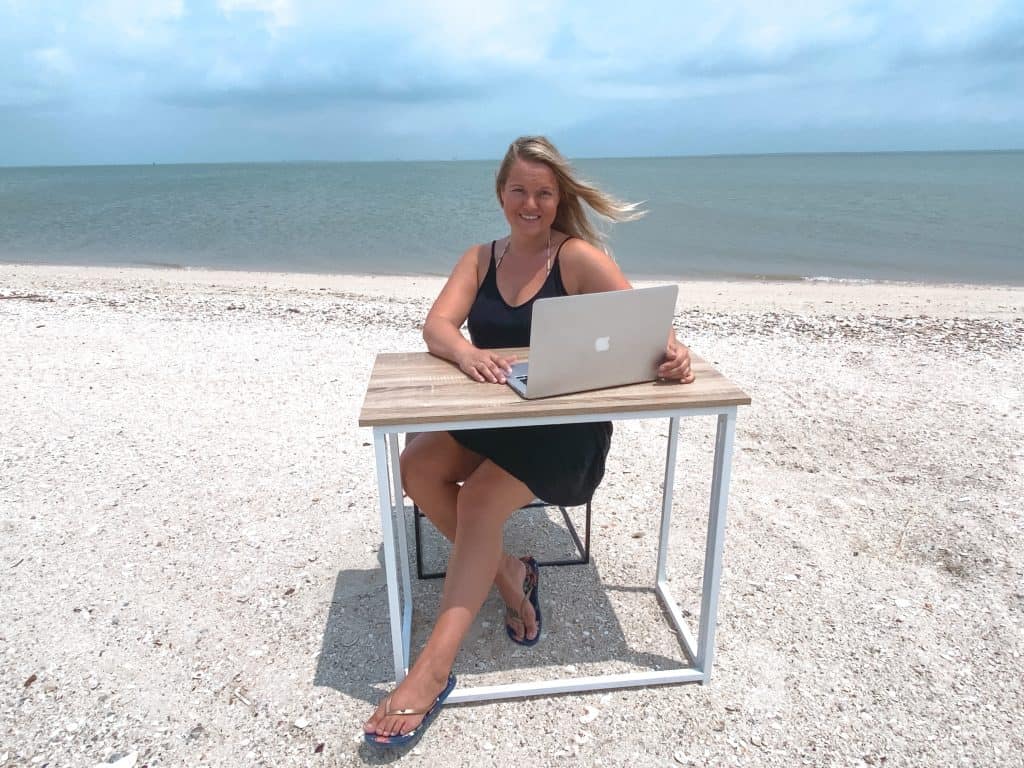 1) Keepa: The Best Amazon FBA Software Tools
Keepa provides an Amazon product's full price, sales rank, buy box, and offer history to inform better sourcing decisions.
19€ / month (approximately $21/month). A free version with fewer features is available.
The Keepa premium version is my number one must-have Amazon FBA tool. It saves me from making bad buys every time I source, so it pays for itself in just one sourcing trip. 
Keepa offers a free Amazon FBA app, but most of its power is in the premium version. It costs 19€ / month to access all the data features, but you can save with an annual subscription. Make sure you purchase Keepa with a credit card that does not charge foreign transaction fees.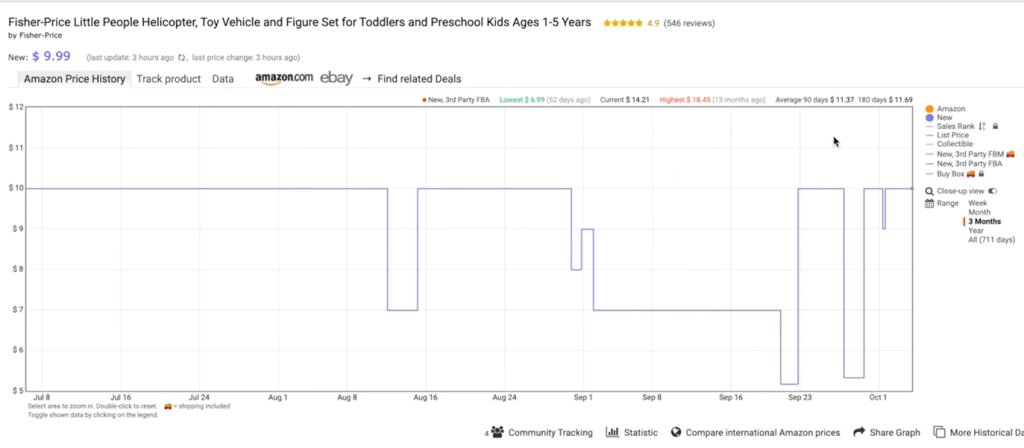 I can talk about Keepa's numerous features forever, so read my How to Use Keepa article for a more in-depth understanding.
However, these are the top ways I use Keepa while sourcing:
All this data can be overwhelming. If you're confused, I explain Keepa and this data step-by-step in my Beginner FBA course. The FBA & FBM video training, audio training, written transcripts, and Facebook support group will get you up to speed on all things Amazon Selling.
Amazon FBA Beginner Course
Become an Amazon selling pro with access to insider knowledge
2) Inventory Lab: Amazon FBA Software For Inventory Management
What Does Inventory Lab Do?
This Amazon FBA software makes it easy to manage and send Amazon FBA shipments.
$69 / month. Annual subscription savings and a 30-day free trial are available.
Amazon FBA software makes inventory management and shipping so much easier. I didn't try Inventory Lab until a few years into my Amazon Selling journey, and I wish I had started using it sooner.
It's easy to add products to the platform. Inventory Lab is a more consistent Amazon FBA inventory management software than Amazon Seller Central. I also love the at-a-glance reporting.
Inventory Lab keeps me on track for my Amazon Selling financial goals. I always know my exact inventory costs, values, and quantities. I can also break down my profitability by SKU, supplier, and category.
If you want to take the guesswork out of Amazon FBA profit management, you can try Inventory Lab free for 30 days. The software even remembers your information if you cancel your account and return to it later.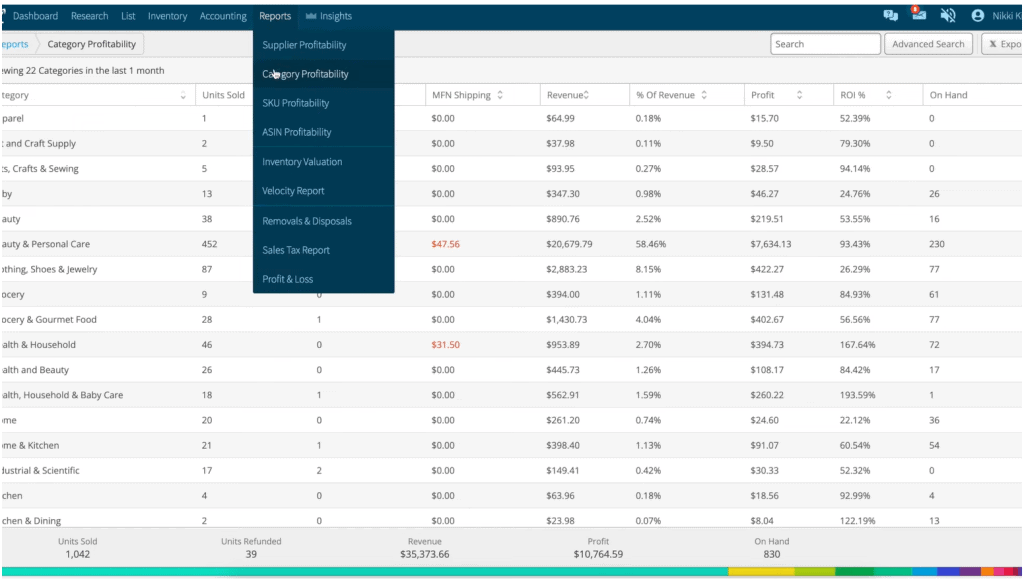 3) BOLO Group: Amazon FBA Tools For Sourcing
A BOLO group provides sourcing leads for profitable buys.
$89 / month
Sourcing is the bulk of your time and energy as an Amazon FBA seller. That's why a high-quality BOLO Group is one of the best Amazon FBA tools.
A BOLO group is a community of Amazon Sellers who exchange leads for good buys. This resource provides direction when you source.
You will learn about sales and product ideas that you would otherwise miss. It's also encouraging and insightful to confer with other sellers as you grow your Amazon FBA business.
I designed my own BOLO group to provide the support, efficiencies, and profit potential I wasn't finding elsewhere. In addition to a great Facebook community, we compile all the leads into a spreadsheet for easy reference.
To join, you just need to pay the membership fee and share one lead that meets our requirements per month. With all the valuable leads in the group, it pays for itself!
4) IP Alert: Handy Amazon FBA Tool
These Amazon FBA software tools tell you if selling a product puts you at risk of getting a complaint from the brand.
$199 lifetime license. Use promo code NIKKI for $30 off.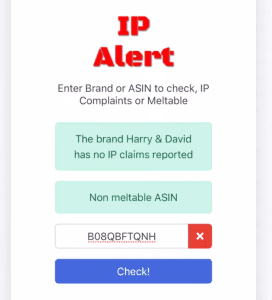 If you're re-selling on Amazon, there's a possibility that a brand could file a claim that you're selling a counterfeit product or infringing on trademark or intellectual property. These complaints can hurt your Amazon account health or ban your account.
IP alert is one of my most helpful Amazon FBA software tools. When you scan a product, it alerts you if the brand has a history of sending sellers complaints. It's available as a web app and chrome extension.
This Amazon Seller tool has a handy new feature to alert you of meltable items. That alert informs purchase decisions in the hotter months.
IP Alert has saved me a lot of hassle over the years, especially when I'm selling in the beauty category. If your Amazon account does receive an IP or counterfeit complaint, don't worry, it's not the end of the world. Learn my process for removing IP complaints.
5) Sellerboard: Amazon FBA App For Profitability
What Does Sellerboard Do?
Track and forecast your potential Amazon FBA profit.
$15 / month. Annual subscription discounts are available. Use my link to get the first two months free.
Sellerboard links to your Amazon account inventory. All you have to do is enter your cost of goods for each product, and the app will provide a wealth of profit potential information.
This Amazon Seller software breaks down profit by product, forecasts potential profit by month, tracks how close you are to business goals, and makes it clear how much money you're making overall. These numbers provide peace of mind and direction for your business.
Sellboard is available as an app or desktop software.
I made a whole video on how I use Amazon Sellerboard, so check that out if you want to learn more about these useful Amazon FBA software tools.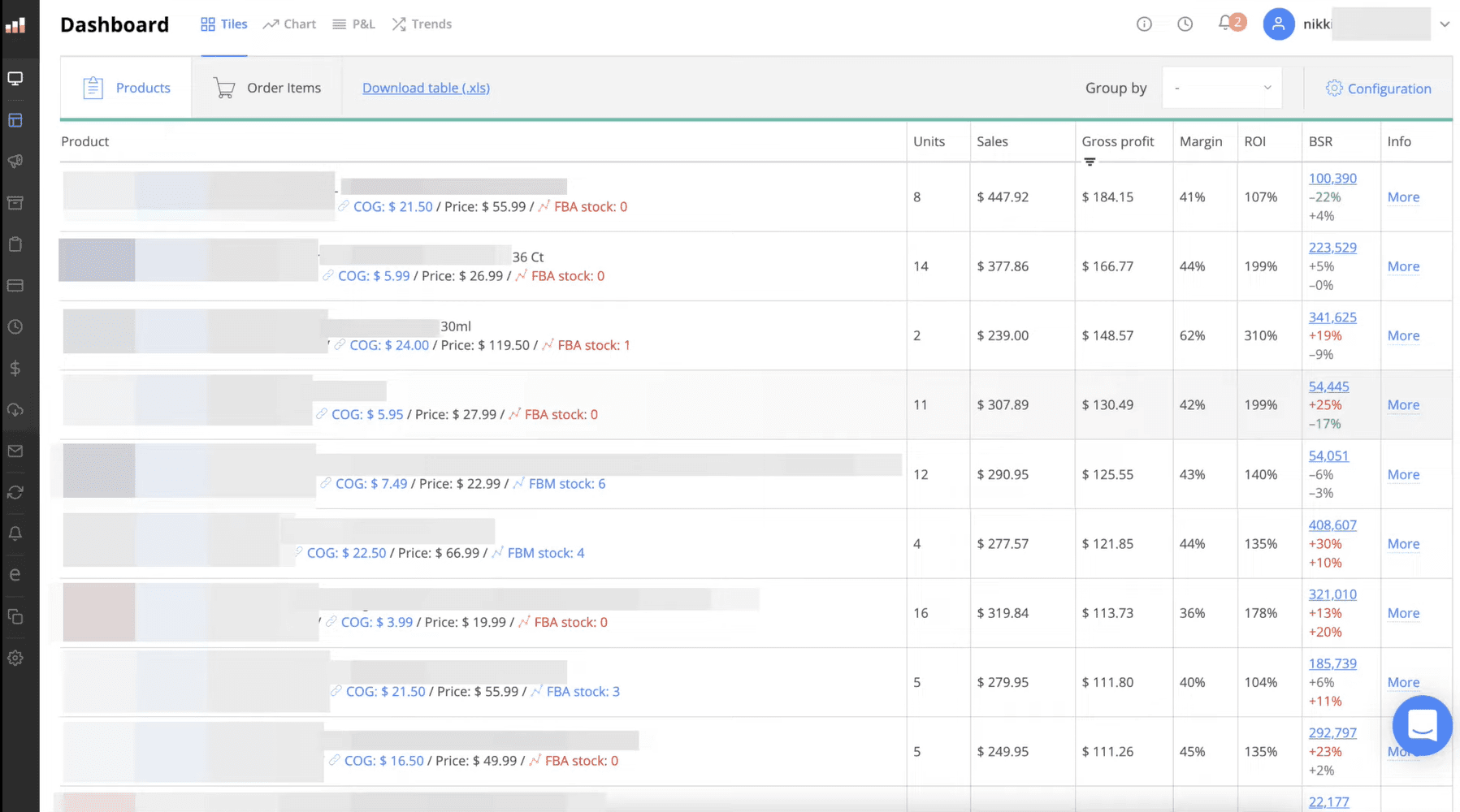 Which Amazon FBA Software Tools Do I Use?
I have tried dozens of Amazon FBA software tools. I use these five daily because they give me time and insights to make more money.
If you're considering buying these Amazon Seller tools, don't forget to keep your receipts. Anything you use for your business, including Amazon FBA software, BOLO groups, and video training, are tax-deductible.
Watch my YouTube video for demos and in-depth explanations of these Amazon FBA software tools. I break down my packing and shipping supplies in this article if you're searching for more tools.