Did you know Amazon sellers qualify for UPS free boxes & shipping supplies? If you're an FBM or FBA seller, shipping is pivotal in your operations, whether sending products to Amazon warehouses or directly to customers. 
Amazon seller shipping supply costs can rapidly accumulate, sometimes cutting deep into your ROI. But there's a solution: UPS free boxes and shipping supplies for businesses. That's right! UPS will mail the same shipping supplies you buy for free! This hack saves money and maximizes your returns, making it a must-know for every Amazon seller.
Requirements For Amazon Seller Shipping Supplies
Amazon mandates specific shipping supply requirements to guarantee secure and quality product packaging.
Amazon FBA boxes should be six-sided, sturdy, and closed securely. Inside, cushion items with materials like bubble wrap while avoiding messy fillers like Styrofoam peanuts. Amazon also has detailed rules for packaging items in clear polybags.
Proper box labeling and a barcode on items is crucial. Seal with strong tape and give special attention to fragile, liquid, or oversized items. To learn more about the tools I use to pack every shipment, check out my list of Amazon FBA supplies. 
The Amazon-specific packing requirements can vary based on the product type and whether you're shipping to Amazon's warehouse or directly to the customer. Check out my packing and shipping guides for FBM and FBA sellers for details.
Properly following Amazon's shipping and packaging requirements ensures your items' safety and avoids additional fees or delays in processing.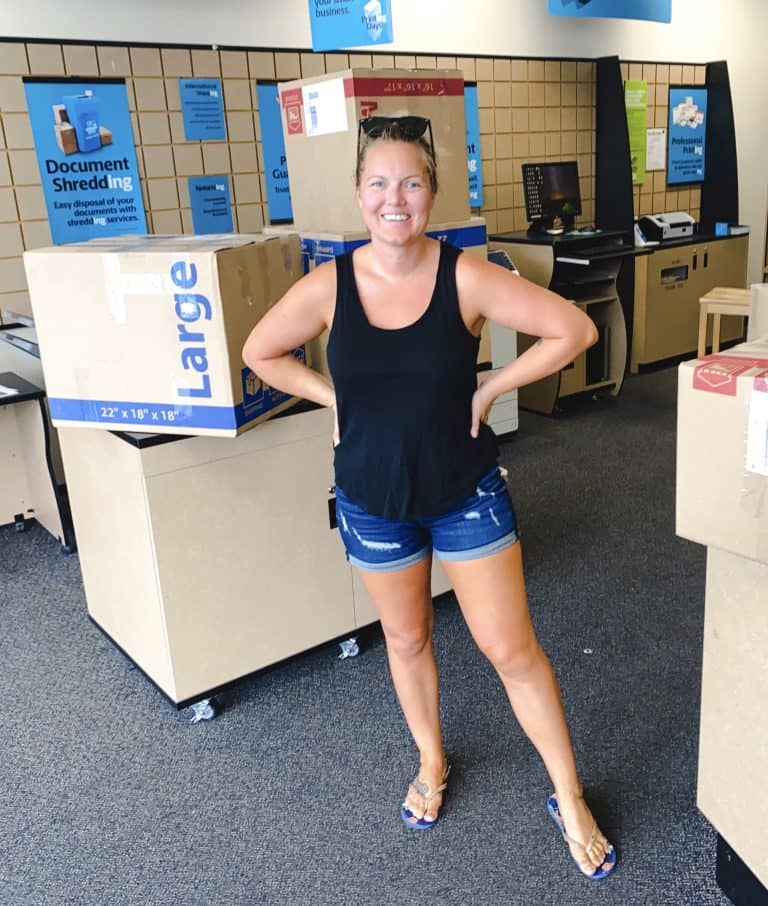 Does UPS Give Free Boxes?
Yes, UPS free boxes are available for business owners, including Amazon sellers. 
To qualify for free UPS shipping supplies, all you need is a business account with UPS, a business EIN or credit card, and a valid mailing address. 
Getting UPS Free Boxes & Shipping Supplies: Step-By-Step
Step 1: Create a UPS Business Account
To start getting UPS free shipping supplies, visit UPS.com to open a free UPS Business Account.
Creating a regular UPS account or profile differs from creating a UPS Business account. Without a Business account, you cannot see the UPS free shipping supplies available.
To sign up, you must provide your business EIN (Employer Identification Number) or a valid credit card. UPS will not charge your credit card when you create your account.
After your Business account is set up and verified by email, you can access all UPS free shipping supplies.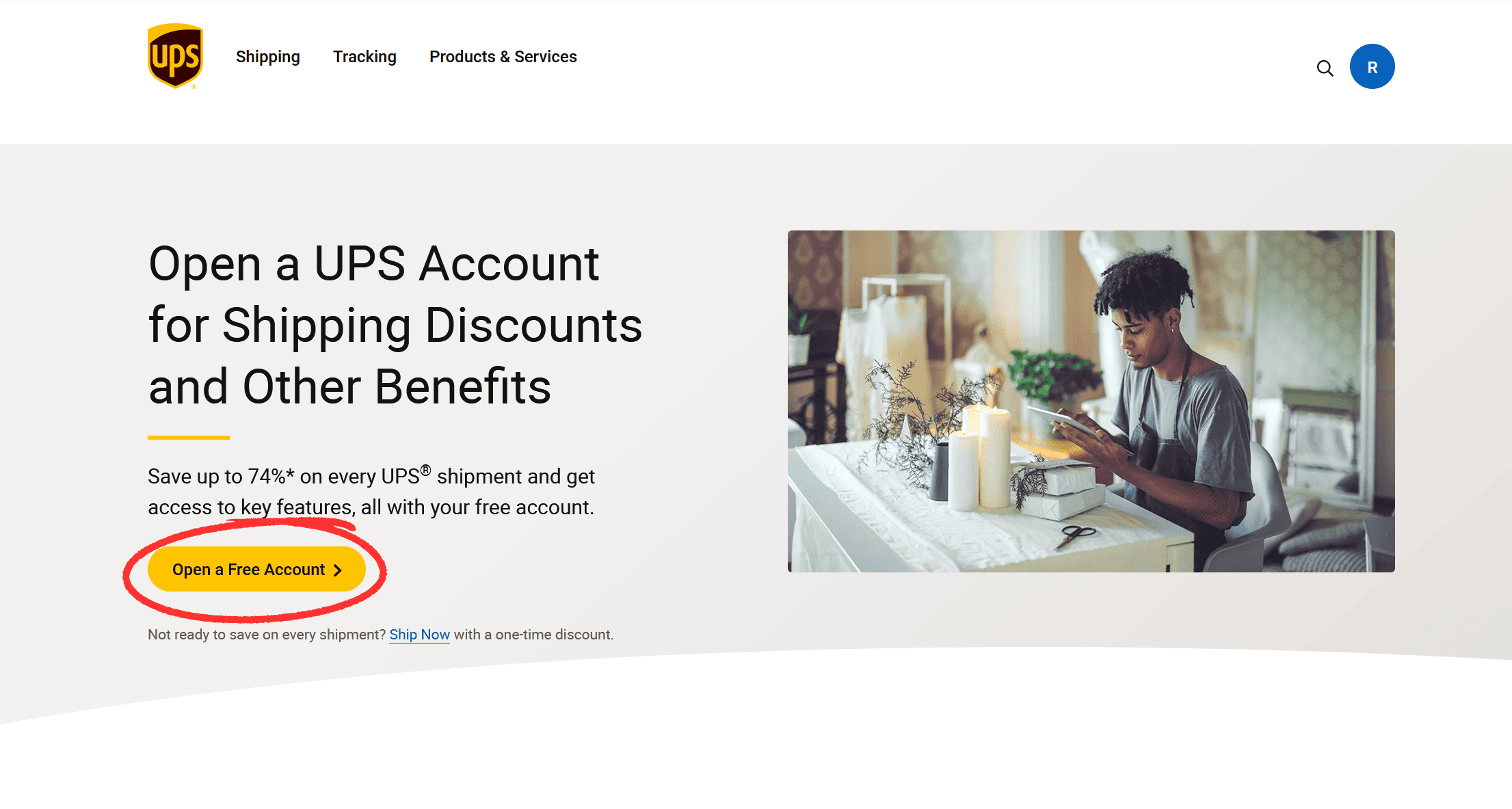 Step 2: Go to the UPS Ordering Page
Sign into UPS, and find 'Products & Services' in the top menu. From the drop-down menu, select 'Business Shipping Tools.'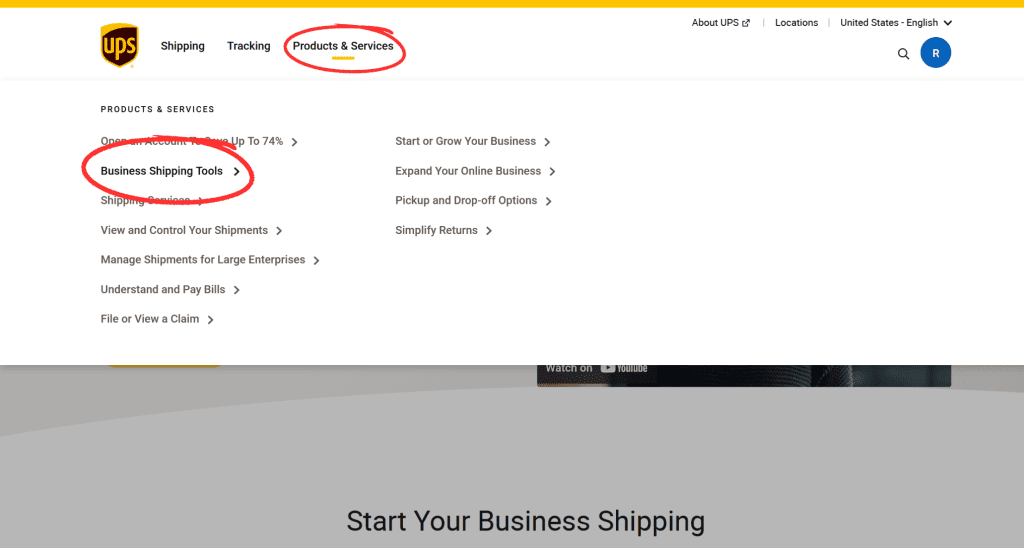 This will take you to the Business Shipping page with these options: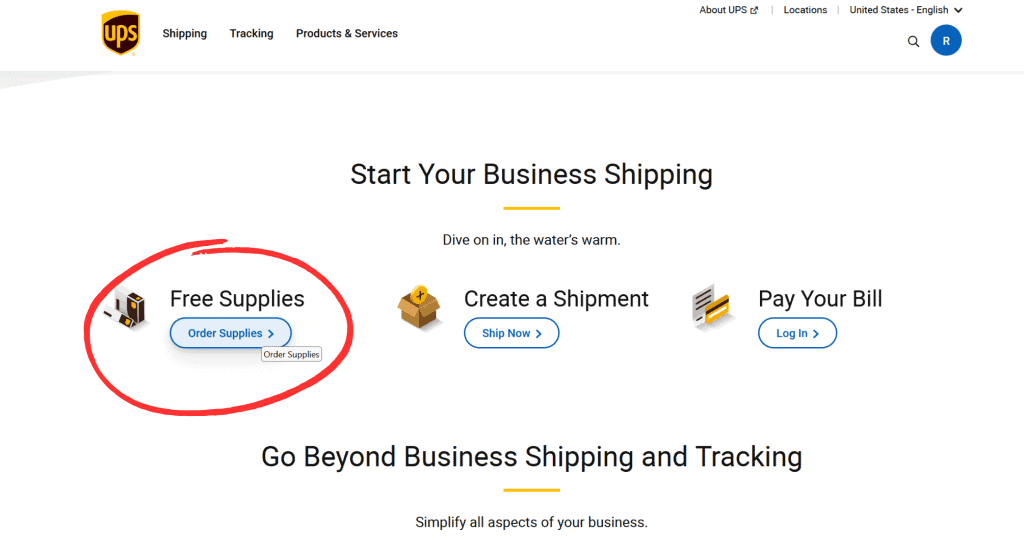 Select the 'Order Supplies' button under 'Free Supplies.' The website will direct you to start ordering UPS free boxes on the next page.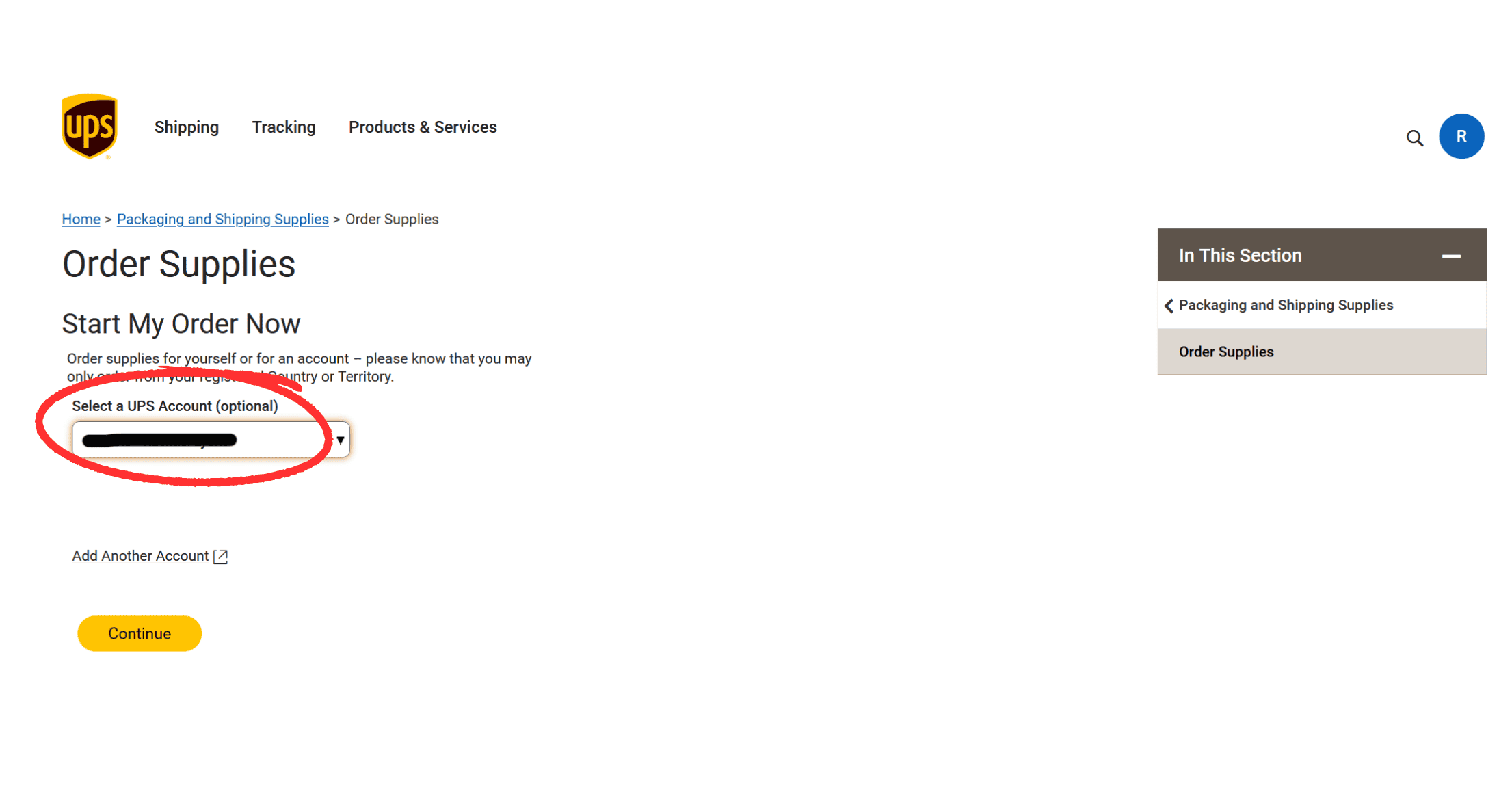 Even though it says a UPS Account is optional for ordering, you will only see all the free UPS shipping supplies available if you have a business account.
If you get to this pull-down menu without an account number option, you still need to create a business account. 
If you can select your UPS-generated account number, then you're good to go and ready to select your free UPS shipping supplies.
The 'Order Supplies' menu has options to order: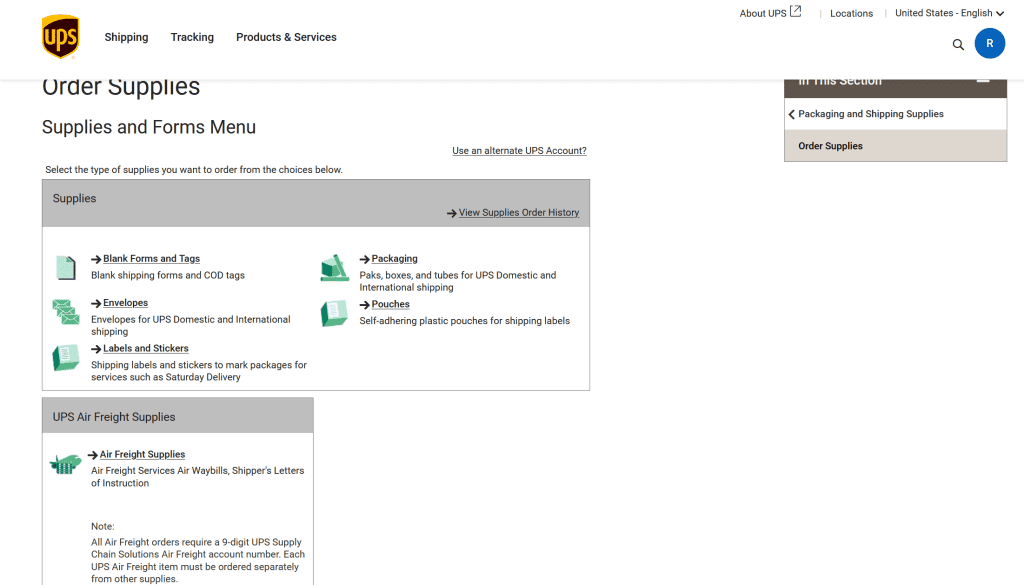 Step 3: Select UPS Free Shipping Supplies to Order
Now the fun part! It's time to choose your UPS free shipping supplies! Having the right tools on hand can significantly streamline the Amazon FBA & FBM shipping process.
Here are my picks for the most valuable free UPS shipping supplies for Amazon sellers:
4x6 Thermal Shipping Labels
These are quintessential for printing Amazon shipping labels. Using a thermal printer eliminates the need for ink, and the label size is perfect for most standard packages, making the shipping process efficient and clean.
9x6x3 Small Brown UPS Free Boxes
These UPS free boxes are ideal for smaller items and ensure that your products are snug and protected during transit. Their compact size also often translates to lower shipping costs, optimizing expenses.
13x10x3 Medium Brown UPS Free Boxes
For those products that need more space, these medium-sized UPS free boxes are my go-to. They're spacious enough for a wide range of products but still manageable for easy handling and storage.
See-through Pouches for Shipping Labels
These adhesive pouches are a lifesaver for keeping your shipping labels affixed and visible. Not only do they protect your label from external factors like rain or abrasion, but they also provide a professional appearance to your packages.
Here's a screenshot of some of the different free labels from UPS. I prefer the 4×6 version because they are the most versatile. Each roll contains 940 labels.
If you don't already have one, it's also possible to rent a thermal printer from UPS.
While there are numerous options for UPS free boxes, you're ideally looking for the 'security boxes.' 
To locate them, you'll need to scroll all the way to the bottom of the list. Although the product image shows a box adorned with the UPS logo, the actual security boxes you'll receive are plain, kraft brown boxes with no logos.
Stock up on both small and medium UPS free boxes. Note that one case contains 50 boxes.
Step 4: Check Out UPS Free Boxes
Once your desired shipping supplies are selected, review the total order on the checkout page.
Enter your mailing information, hit submit, and soon you'll receive your UPS free shipping supplies!
Free UPS Shipping Supplies Have Limited Quantities
Be aware that only limited quantities of free UPS boxes and supplies are available to order at a time. This policy ensures a fair distribution of supplies among all the UPS accounts. However, some flexibility is available if the set quantities of free UPS shipping supplies aren't meeting your business demands. 
Firstly, consider reaching out directly to UPS over the phone. Discussing your specific needs sometimes makes it possible to negotiate and increase the quantity of your order.
Additionally, if you're in a pinch, remember that UPS retail locations also stock shipping supplies. Visiting a physical store can immediately provide boxes, keeping your operations running without shipping-related hitches.
Amazon Sellers, Take Advantage of UPS Free Boxes & Shipping Supplies
Taking advantage of cost-effective resources such as UPS free boxes is a strategic move for Amazon sellers. It's a great way to save money, slash overhead costs, and make your Amazon business more sustainable in the long run. Every dollar saved in logistics can be reinvested into growth or improving your product offerings.
For FBM sellers, navigating the complexities of shipping directly to buyers is crucial. Efficient shipping can be pivotal in ensuring satisfied customers and healthy profit margins. Don't miss a thing with my Complete 101 Guide for Amazon FBM shipping. 
For those selling FBA, if you need more help navigating all the nuances of shipping FBA, check out my Beginner FBA Course! It includes access to a support group full of other sellers who are in similar stages of business planning and can give you answers to all your questions!